The evolving office: are we forgetting the basics?
Jason Ng of Honeywell ED&S is concerned that modernising the office environment often overlooks adapting the lighting to suit.
Despite the increasing virtualisation of the working environment — precipitated by the Internet, collaborative technologies and the popularity of flexible working — the way individuals work in an office space has never been quite so dynamic. Hot-desking or 'desk clusters' are popular today as they allow working groups to sit together to address a problem or issue. The ubiquity of wi-fi means employees can, and expect to be able to, work from anywhere in the building. We are literally 'breaking out' as a workforce.
Moreover, in an age of tough competition to recruit and retain the very best talent, companies are taking steps to make their workplaces as attractive as possible. Lunchtime yoga, chill-out zones, green spaces and company exercise classes have become increasingly commonplace in the working world. We're even seeing temporary children's nurseries pop up in offices as organisations endeavour to keep the services of valued working mums.
Despite the obvious benefit of these trends, however, we are also demanding much more from our workplace environment than ever before. The ability of any organisation to flex and adapt its surroundings quickly, regularly and cost effectively has never been more important. In some cases, buildings created decades ago are expected to seamlessly play host to a vibrant, wireless workforce.
Lighting is one of the biggest problems for business in this context. While companies are implementing changes to their building to accommodate new working practices and behaviours, they are not automatically following them up with the necessary changes in lighting and electrical services. For many organisations, neglecting this core area of building services can mean higher energy bills, not to mention a steady uptick in their carbon emissions.
At Ex-Or, we have observed an increase in the inefficient delivery of lighting in open-plan office areas following what we call 'the changing role of the office'. The result is unnecessarily high energy costs, a reduction in productivity amongst employees and the risk of non-compliance with office lighting legislation.
There remains a great contrast between the willingness of companies to develop dynamic, innovative working environments and their understanding of the need to match this with corresponding changes to lighting.
A good starting point is conducting a comprehensive energy audit. Some of the areas an audit focuses on include are:
• audit of a building's lighting-control system;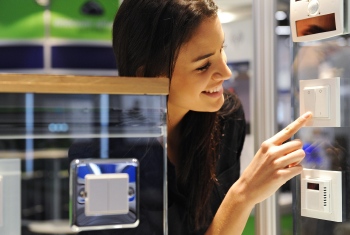 • review of luminaires and lighting levels using CIBSE guidelines;
• identification of uncontrolled lit areas.
An audit gives firms a baseline to understand whether or not their existing set-up is efficient or not. Specialist companies like Ex-Or also offer servicing and maintenance expertise to assist businesses in achieving optimum efficiency from their lighting systems.
Depending on the results of the energy audit, there are a number of effective measures that can be undertaken to significantly improve the energy performance of lighting control systems. These include a simple retrofit of control equipment, luminaire conversion or upgrades to controllable units.
In addition to an audit, wireless technology is also an obvious solution in a dynamic working environment. Light switches powered by EnOcean technology work without batteries by using 'ambient energy' and converting it into a radio signal. In a constantly changing workspace, the ability to place switches almost anywhere — glass doors or partition walls for example — empowers a business to quickly adapt its lighting model in near real time. As such light switches are easily placed, they are also easily moved, making them useful for floor plans that are frequently rearranged to cope with staff churn. Wireless installation also minimises disruption during refurbishment and reduces project time.
In summary, whilst it's important for work spaces to be affordable, comfortable, scalable and pleasing to the eye, a business must be careful not to overlook its approach to lighting the space effectively and efficiently. In addition to energy and cost efficiency, lighting can have an influence on worker wellbeing and performance. As such, lighting needs to be part of the design mix, not just an afterthought. By integrating the right lighting solution at the beginning of a new build or a refurbishment, a company will be able to scale-up and scale-down to reflect the constant evolution of its business environment.
Jason Ng is marketing communications specialist with Honeywell ED&S, of which Ex-Or is a brand.
Related links:
Related articles: