Commissioning as the key to peak performance
Efficient boiler plant deserves the chance to deliver that efficiency in practice, and the key to achieving it is commissioning, as Pete Mills of Bosch Commercial & Industrial Heating explains.
You don't have to look far to see just how much of an impact rising fuel costs have made across the domestic, commercial, and industrial sectors. With the news agenda frequently dominated by stories on rising fuel prices, it is clear that efficient heating needs to be considered a priority if it is to help businesses to minimise costs and carbon emissions.
For commercial buildings, no two heating systems should ever be considered the same prior to an installation. The building's characteristics, infrastructure, features and its usage patterns should all be considered prior to any installation. In turn, the key to ensuring the needs of the end user are met, and the boiler and system performance optimised following a boiler installation is a thorough commissioning process.
Why commissioning is key
The initial selection of the right boilers, particularly with any renewable technologies or accompanying technologies such as instantaneous water heaters, is an ideal starting point. For example, from a technical perspective, cast-iron boilers have a low hydraulic resistance, which means they can be incorporated within an existing heating system with minimal changes to the infrastructure. This is of course a worthwhile consideration as it has the potential to minimise the cost incurred by any adjustments made to the fabric of the buildings. Commissioning then follows on the basis that the boiler, whether condensing or cast iron, has been installed with its compatibility and overall efficiency being maximised.
The heating system's controls are another key component of the complete heating system and should be treated in as high regard as the heating and hot-water appliances themselves. Generally, a well matched controls system can improve efficiency by up to 10% over a system with inappropriate controls, making it essential that they are performing to their full specification capability. A full commissioning of the controls alongside the heating and hot-water appliances themselves is key to maintaining high performance levels, not to mention maximum savings. A full commissioning procedure should also include the necessary instruction to whoever will be in charge of the plant on how to operate the system.
One area of the commissioning, servicing and maintenance procedures that can be easily overlooked is accessibility to the boiler's key components. There are a number of boilers available that have been designed and developed with access in mind. Being able to access internal components, either from the front or side of the boiler, will make commissioning and general maintenance straightforward, regardless of the boiler's position within the building. While the technicalities of commissioning will always remain a primary consideration, logistical considerations such as the siting of the boiler and its controls should be taken into account to minimise disruptions.
Safeguarding investment
A commercially-sized heating system is likely to be one of the most expensive investments made by the stakeholders, and the commissioning process is there to ensure that payback on this investment is achieved as quickly as possible. The sophistication of the latest generation of boilers is such that if they are not fully commissioned, it is expected they will fail to perform to the highest levels. Surprisingly, we hear some stories of facilities managers who neglect the commissioning process in a bid to reduce expenditure; however, the consequential failure to maximise efficiencies at an early stage often results in inflated running costs.
A thorough commissioning process will focus not only on the boiler or primary heating appliance, but will also cover all aspects of the complete system — ranging from the electrical elements such as pumps, to sophisticated control systems which are essentially in place to manage outputs and periods of operation. Where larger installations are concerned, minor adjustments can make significant reductions in annual running costs
It goes without saying that commissioning requires an extensive level of technical expertise and an understanding of the end user's annual requirements. That said, given fluctuating fuel costs and occasional changes to requirements, it is likely that the end user will struggle to make a well-informed assessment of the heating system's performance. Taking advantage of a manufacturer's technical expertise and experience to provide commissioning and post-installation support will provide peace of mind and reassurances that the system is capable of meeting its heating requirements. By establishing the ongoing heating demands of the building with the investor from the outset, a manufacturer can not only specify the most suitable appliance and controls system, but also implement features such as zoning, operating times, weather compensation and heat-curve adjustments to implement a sophisticated operation.
The observation that no two commercial-heating installations are the same should be a strong-enough message to emphasise the importance of commissioning. As a key component of the installation routine in its own right, commissioning is undoubtedly worth carrying out properly to ensure the best possible return on investment.
Pete Mills is commercial technical operations manager at Bosch Commercial & Industrial Heating.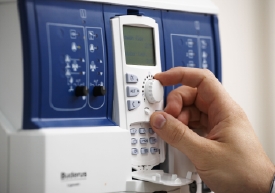 Related links:
Related articles: