Condensing boilers in a low-carbon partnership

Whilst wider technologies such as renewables and Combined Heat and Power (CHP) have increased their share of the limelight over recent months, Pete Mills of Bosch Commercial & Industrial Heating explains why condensing boilers should still be considered an essential element of an industrial heating solution.
The last few years have seen a number of innovative new technologies enter the heating market as manufacturers look to cater for the needs of stakeholders keen to take advantage of Government-funded initiatives. Incentives such as the Renewable Heat Incentive (RHI) and the Carbon Reduction Commitment (CRC) have been put in place to reduce emissions and mitigate rising energy costs, which has been a prevalent issue since the big six energy companies hiked prices last autumn.
What is important to remember from an investor's point of view is that a there is no magic bullet when it comes to the specification of a heating system for a commercial or industrial application. In most cases, a combination of technologies working in synergy is the best option — with condensing boilers offering cost-effective stability alongside another technology.
Green enhancement
Essentially, the strength of a condensing boiler is its consistency of performance. A reliance on fossil fuel means that the condensing boiler can provide a constant supply of heat, which is not necessarily the case for renewable technologies. As a result, an alternative heat source is required to top-up that extra heat over the winter months when daylight hours reduce and temperatures dip.
Typically, renewable technologies tend to be installed to provide the 'base load' for a building, which in simple terms means that the heating load is required by the building for the majority of the time. A condensing boiler can then be integrated into the heating system to provide back-up — relying on fossil fuel to provide the heating that the renewable technology is not capable of delivering.
"This case is typical where 100% of a building's load is only required for a small minority of a year — a week for example. As there are few occasions where the building's demand is very high, increasing the renewable system to cover peak demand of just a few days is not cost-effective. Consequently, it makes sense to install a suitable back-up boiler which can easily handle peak-load requirements.
Condensing boilers are a good option thanks to a high turndown rate, which means they have particularly low working points. This means they are capable of operating for extended periods in a part-load condition, whereby their primary function is to offer support for the lead renewable technology.
Despite a reliance on fossil fuels, condensing boilers in general are highly efficient and have the added benefit of low emissions. The technology used by a condensing boiler is such that heat which would go to waste via flue gases in a conventional boiler is used to pre-heat the water entering the system to maximise efficiency.
Maximising the benefits of CHP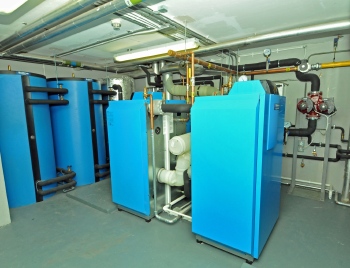 Combined heat and power offers an equally viable lead heat source to renewables for industrial heating applications ranging from factories and retail units through to public facilities such as hospitals or sports centres. What CHP has in common with renewable technologies is that it is best used as a lead heat source, requiring additional support during periods of peak demand for heat.
Whilst the overarching capability of a CHP module is to enhance the cost-effectiveness of the provision of heat and electricity, this does not mean to say that the technology should be considered a one-stop solution. CHP systems should be sized to meet the base heating load of a building, with a high-efficiency boiler installed to help meet the peak load, during periods of particularly high demand.
By making use of waste heat from the generating electricity, CHP delivers energy utilisation of around 94%, with a favourable impact on energy costs and emissions. With condensing boilers able to meet seasonal efficiency levels (L2B) of up to around 97%, the cumulative efficiency of a hybrid arrangement is further enhanced.
Retrospective introduction
In this age of austerity, it's not surprising that many businesses and investors are constantly considering ways in which to reduce operational running costs. When faced with rising fuel bills for the provision of heating and hot water, reviewing the capabilities of an existing system is a particularly good place to start.
For starters, it is important to check the actual demand of a building, as usage and design practice may well have changed since existing boilers were first installed. It is not uncommon to find instances where replacement boilers have been sized like-for-like to deliver the same output as the current boiler. However, this is not good practice and can ultimately eliminate the potential savings for the investor.
Each installation of a new or replacement heating system should be considered on an individual basis to ensure the end-user's needs are met. Whilst there is undoubtedly greater incentive than ever before for wider technologies to be adopted, condensing boilers continue to be the perfect partner for suitably-sized heating alternatives.
Pete Mills is commercial technical operations manager at Bosch Commercial & Industrial Heating.
Related links:
Related articles: