Latest developments in commissioning air systems

Prompted by the requirements of the Building Regulations and changes in technology, BSRIA has prepared a new guide to commissioning air systems. Unsurprisingly, there is much that is new after an interval of 24 years. Chris Parsloe focuses on the main changes.
Of major significance to air-distribution systems in buildings in the new guide is an acknowledgement of the requirements of Part L of the Building Regulations, which now require systems to be commissioned and by a suitably qualified competent person. There is also a requirement to measure and prove specific fan powers. These requirements are suitably highlighted in the new guide.
Most of the other changes are the result of changes in the technology between 1989 and 2013.
Whereas the old guide dealt exclusively with constant-flow systems, the new guide incorporates descriptions of variable-air-volume boxes, and provides a complete example procedure for commissioning these systems.
In 1989 VAV systems were fairly common. Due to their energy-saving potential, VAV systems went through a phase of popularity in the mid to late 1980s which coincided with last release of the guide. However, the commissioning of VAV systems was viewed at the time as a specialist area requiring a bespoke method statement and a good understanding on behalf of designer and commissioning specialist — much as is the case for variable-flow pipework systems today. Issues to be overcome included how to ensure minimum fresh-air levels were maintained and control of fan speed so that adequate pressures were maintained at VAV boxes.
Due to its specialised nature, a separate BSRIA guide was issued in 1991 ('Commissioning of VAV systems in buildings'). It dealt exclusively with VAV systems, leaving the main guide to focus on constant-flow systems.
The new 2013 guide covers both constant-flow and variable-flow systems. Instead of having just a single commissioning method applicable to manual balancing in constant-flow systems, there are now three example commissioning method statements covering.
• Constant-flow systems with manually operated dampers.
• Constant-flow systems with constant-volume dampers.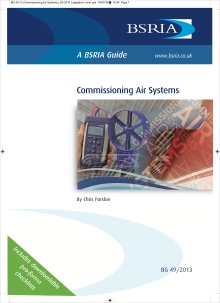 • VAV systems.
In support of these method statements,19 relevant design and installation guidance is provided. The guide adopts the format of the previous version with sections dealing with 'designing for commissionability', 'installation for commissionability' and the actual commissioning procedures themselves.
In particular, the design section has been significantly expanded to cover not just manual flow-balancing devices but also to include descriptions of, and design advice relating to, variable-flow units and constant-volume units. Furthermore, the alternative flow-measurement options are explained.
Whereas the previous guide dealt only with Pitot tubes, anemometers and hoods, the new guide also covers pressure necklaces for fans and flow measurements at iris dampers. The requirements relating to the numbers of test holes required for flow measurements and distances of measurements from obstructions have also been updated and clarified into a simpler format.
As well as the changes in airflow technology, there have been many advances in test instrument technology over the last 24 years. The new guide includes a significantly expanded section on site test instruments. It covers the existing options for measuring rotational-speed, voltage, current, static pressure, air velocity and flow rate. Pictures and operating principles of each instrument are provided, and all the instruments mentioned are of course available for hire from BSRIA Instrument Solutions.
Chris Parsloe is a consultant to BSRIA.
Related links:
Related articles: