DECC moves to the next stage of the Renewable Heat Incentive

This year sees major developments in the Government's Renewable Heat Incentive, as explained by Sarah Redwood, deputy director RHI head of scheme, Renewable Heat Incentive at the Department of Energy & Climate Change.
Heat is the single biggest reason why we use energy in the UK, with 47% of UK energy used to produce heat. This adds up to a £32 billion heating bill. More than 70% of heating in UK homes, businesses and industry is generated from natural gas, and around a third of the UK's carbon emissions come from energy used to produce heat.
The Department of Energy & Climate Change has been tasked to power the country and protect the planet. Our vision is to promote economic growth by delivering affordable, sustainable and secure energy for the whole of the UK.
Under the EU Renewable Energy Directive 2009 we have a commitment to increase the use of renewable energy to 15% by 2020. This means we need to urgently increase the share of heat being delivered from renewables from its current level of 2%. In addition, renewable heat is essential to deliver our carbon budgets and reach our target of an 80% reduction in carbon emissions by 2050.
To achieve these goals, we must change the way we produce and consume heat in buildings. This is a great opportunity for the UK to develop businesses and supply chains that support a move to low-carbon heating.
The Government has introduced measures to incentivise energy efficiency, self-generation, reduce carbon emissions and encourage decarbonisation of our energy production. These include the Green Deal, Feed in Tariff Scheme, the Renewable Heat Premium Payment (which ended on 31 March 2014) and the Renewable Heat Incentive (RHI).
The RHI is the world's first long-term financial support programme for renewable heat. It is designed to bridge the gap between the cost of fossil-fuel-heat sources and renewable-heat alternatives through financial support based on renewable-heat output for owners of participating heating-system installations. From spring 2014, all buildings will be able to apply for the RHI if they move to renewable heat.
Non-domestic RHI
The non-domestic Renewable Heat Incentive (RHI) scheme has been open to commercial, industrial, public sector, not-for-profit organisations and to the community since November 2011. This incentive is paid to all accredited installations every quarter over 20 years based on actual generation or use of renewable heat.
Here is a list of currently eligible technologies and ones that will be included in the scheme in Spring 2014.
• Air to Water Heat Pumps.
• Biogas.
• Biomass.
• Biomethane injection.
• Combined heat and power.
• Deep geothermal.
• Ground-source heat pumps.
• Water-source heat pumps.
• Solar thermal.
For those intending to apply for the non-domestic RHI, the owner of the installation must have installed and commissioned the system on or after 15 July 2009. All systems must be metered with meters calibrated correctly and installed in the right locations. The equipment must have been new at time of purchase, and the heat transfer cannot be via direct air heating.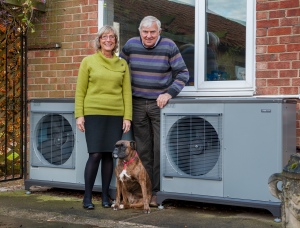 The owner of the installation is responsible for being compliant with the requirements of the scheme once their system has been accredited and they are receiving payments through the scheme. One common reason for non-compliance is that owners have not kept fuel records. This is particularly prevalent with biomass installations. Other problems that we have found are incorrect installation of meters, heat losses not being measured accurately and boiler output being higher than its stated capacity.
Biomass air quality and sustainability
The new list of biomass suppliers will be open to applications from suppliers in spring 2014. It will be operated by a consortium led by Gemserv, supported by Hetas and Woodsure. A new greenhouse-gas lifecycle emissions target will be introduced from autumn of 2014 to ensure that RHI support delivers value for money and meets the Government's wider environmental and carbon objectives. Participants and suppliers of biomass fuel should start thinking now about how they will comply with the criteria. From autumn all existing and new participants will need to comply with the criteria.
For more details on the non-domestic scheme please visit the OFGEM link below.
Domestic RHI
The Domestic RHI scheme is due to launch in spring 2014. Payments will be made over seven years to households, based on forecast heat produced over 20 years. This will be the deemed renewable-heat output, unless the system is being installed in a second home or as a bivalent system, where two heating systems are heating the same space in a building. These two circumstances would require a metered renewable-heating system to determine tariff payments. DECC will offer an extra set payment of £200 per year where consumers take out metering and monitoring support packages for biomass boilers.
The technologies that will be eligible are as follows.
• Biomass-only boilers.
• Biomass pellet stoves with integrated boilers.
• Air-to-water heat pumps.
• Ground-source heat pumps.
• Solar-thermal panels (flat plate and evacuated tube only).
Solar PV panels will not be eligible when the scheme is launched.
For more details on the domestic RHI, contact the Energy Savings Advice Service at www.energysavingtrust.org.uk or tel. 0300 123 1234. for Scotland contact Home Energy Scotland, tel. 0808 808 2282.
There is also an RHI forum on LinkedIn where readers and industry specialists can join in the discussion and tell us how they think the scheme is working.
http://www.linkedin.com/groups/Renewable-Heat-Incentive-forum-4321846?trk=my_groups-b-grp-v
For more details on the RHI (domestic and non-domestic) please visit the DECC link below
If you are interested in receiving RHI updates from DECC or in providing feedback, please email rhi@decc.gsi.gov.uk
Related links:
Related articles: