Tridonic support for lighting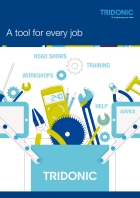 Lighting specialist Tridonic has launched a 'toolbox' of support services for architects, specifiers, end users and OEMs to help them make the most of the company's extensive range of products and increase their understanding of the issues and options available.
Tridonic's range includes fixed-output and dimming controls, through to emergency and LED light sources and converters.
Shaun Dainton says, 'We are hoping that architects and specifiers will be interested in benefiting from our depth of knowledge and breadth of experience in what is an increasingly complex market.
'Over recent years, the market has undergone considerable change, with LED-based solutions rapidly taking the place of more traditional fluorescent-based solutions. As the older systems are superseded, suppliers and installers need to keep up to date with the technology, new legislation and the changing expectations of the end user.'
Related links:
Related articles: