Cooling towers have HDPE shell to resist corrosion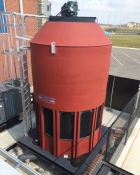 Delta Cooling Towers offers a range of cooling towers with a shell composed of HDPE 'engineered' plastic, which has a high resistance to corrosive elements in the environment such as salt and industrial pollutants. The shell material is also resistant to cooling-system water and chemical water treatments.
This resistance to corrosion considerably reduces maintenance requirements and downtime. There is a 20-year warranty on the shell.
These cooling towers are available in single and modular configurations with heat-rejection capabilities from 35 to 8400 kW.
Custom colours can be supplied.
Related links:
Related articles: