2014 CentraLine by Honeywell review

Jim Sword, CentraLine sales manager, reflects on another excellent year for CentraLine and the opening of a new training centre.
The UK economy continues to improve with strong sales in both CentraLine and its aligned water control products.
We have seen significant growth in high-end residential properties, education and commercial office buildings.
The Hawk AX has become an industry standard since CentraLine introduced the Niagara based integration controller in 2007. The recently released Hawk 300E, which is specifically designed to support smaller installations with remote access, will be a welcome addition to an already extensive portfolio.
In the past five years, building-management systems have been transformed as smart phones and tablets with graphical user interfaces have revolutionised remote internet access.
We see a definite correlation between residential controls and building-management systems as users are empowered by smart technology. Honeywell is developing domestic and commercial products and systems that will fully connect people with a comfortable, enjoyable and productive environment, both at work and in the home.
This has been most clearly demonstrated in high-end residential multi-occupier buildings where the individual apartment owner has the ability to monitor, adjust and receive alarms while travelling or away from home.
The success of the Hawk AX has been further demonstrated this year when we welcomed another 11 companies, increasing our network to well over 150 partners.
CentraLine from its inception over 10 years ago has continued its policy of encouraging large and small companies to become CentraLine partners.
Our long-term approach to encourage independent systems installers to embrace a new technology has been a major factor in the successful introduction of Niagara technology into the UK and Ireland.
We were also very pleased to see the release of the Sea Hawk leak-detection system incorporating Modbus protocol that can integrate with Niagara AX. The system can detect leaks over an array length of 3000 m and can be configured for specific and general risk areas of water leakage.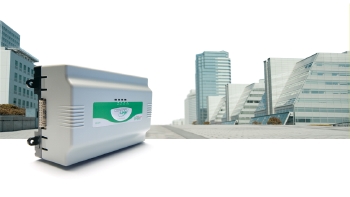 This new system bridges the building-management and water-control products collectively known as the Honeywell Building Sales Group, which is focused on the specification, delivery and support of products for the commercial-building sector.
Water distribution is arguably the most critical building service if we consider its importance in relation to drinking, cooking and hygiene with the associated risks to safety and health.
We are an early promoter of the concept of water-management systems (WMS) in commercial buildings. Alongside our range of pressure-reducing valves, balancing valves and filters, the Sea Hawk is seen as the first step in this exciting new area of building-services automation.
I am also pleased to announce that before the end of this year we will be opening a new training and demonstration centre in Bracknell, Berkshire.
This enlarged facility will continue to be the responsibility of senior engineers Jeff Howlett and Jim Cook. They have supported the Hawk AX for nearly eight years, having originated most of the training material now in use.
To ensure we continue to provide an environment that promotes the highest level of learning for students, we have moved and re-equipped our training room to include a wider range of products and systems that can be integrated using the Hawk AX. These include Ex-Or lighting controls, fire systems, CCTV, security and Z wave switches.
The new facility will also provide the opportunity for training of the Ex-Or range of lighting controls that incorporate a Niagara AX integration controller. This is especially relevant as I now have Ex-Or sales responsibility and in 2015 will be working with all the sales teams to maximise opportunities with the Honeywell Building Sales Group.
This year, the CentraLine team was also fortunate to welcome a new member, Neil Blakemore, who joined as an account manager looking after the Midlands and the north of England. I am sure he will make his new role successful and, with his colleagues, look forward to next year, which will no doubt be more challenging and rewarding than this one!
Finally I would like to thank all our CentraLine Partners and their customers for their continued loyalty and support in 2014.
The CentraLine Team wish you all a very merry Christmas and a happy and prosperous new year.
Related links:
Related articles: