Fernox launches filter for commercial heating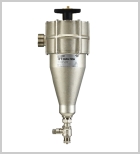 Fernox's TF1 Delta filter is designed for commercial applications and is suitable for large-volume low-temperature heating and cooling systems. It is designed to protect components from magnetic and non-magnetic debris, as well as removing air from a system.
The filter works by utilising hydrocyclonic action to deliver contaminants to the unit's magnet assembly and prevent them from being circulated.
Fernox also offers a range of cleaners and inhibitors for heating systems.
Related links:
Related articles: