Ideal Commercial's heat-interface units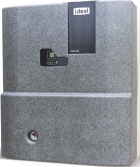 Ideal Commercial Boilers' range of Logic heat interface units comprises four models. They are designed for multi-residential buildings served by central boiler plant. There are two indirect units (50 and 75) and two direct units (high temperature and medium temperature). All units can be fitted with a heat meter, including one that can be monitored remotely.
The indirect units supply heating and hot water via independent plate heat exchangers. Both models can supply 15 kW of heat. DHW is rated at 50 or 75 kW, depending on the model. They can be adapted to serve underfloor heating. Indirect units do not need a pressure-independent control valve, simplifying and speeding up installation.
The direct units supply hot water via a plate heat exchanger at 50 kW, with heat delivered direct from the primary circuit at up to 10 bar. The medium-temperature unit offers modulation of flow temperature.
All logic HIUs have a fully insulated cover to minimise heat loss. Electronic control valves adjust quickly to change in the primary-system pressure and secondary demands.
In a correctly sized system, Logic HIUs enable the return water from the primary system to reach a temperature of less than 40°C for hot water and below 50°C for radiator systems, enabling the central plant to operate in condensing mode.
Fast response to demands for domestic hot water is ensured by maintaining the temperature of the heat exchanger when there is no demand. A turbine switch measures water flow to prevent overheating and scaling in the DHW plate heat exchanger.
The flow temperature for heating can be controlled to suit underfloor heating, eliminating the need for an external mixing manifold.
Another feature is an automatic internal pump bypass, so there is no need for an 'open' radiator or external bypass or open underfloor circuit.
With units having two heat exchangers, heat output is controlled by closely controlling the flow of primary water through the heat exchanger.
Related links:
Related articles: