Why is the building-services sector lagging behind in BIM?
With BIM targets looming in 2016, Steve Hunt believes that preparations are haphazard and that building-services engineers are being hampered by lack of progress in other sectors.
The astounding thing about BIM (building information modelling) is not that the building-services sector is still not ready for full implementation with less than a year to go until the Government's deadline for all public-sector projects to be implemented in BIM. The astounding thing is that no-one is ready, including the public-sector clients putting projects out for tender for delivery in BIM.
With the BIM targets looming in 2016, the construction sector is now hurtling towards the inevitable with the kind of panic you'd expect from a high-school student cramming for an exam.
For those of us in the building-services sector that have been studiously getting their ducks lined up for some time, it's an extremely frustrating state of affairs. Why? Because our BIM readiness on any given project depends on both upstream and downstream delivery partners being equally BIM-ready and on a client who knows what to demand and what to expect. There's plenty of BIM expertise out there, but, it would seem, bringing together delivery partners on a project that are all on the same page when it comes to BIM implementation is nigh on impossible.
The good news is that the urgency with which the construction sector is addressing the practical realities of BIM has stepped up a gear.
The bad news is that levels of BIM readiness still vary, and all too often too much emphasis is put on the use of BIM software alone with too little is invested in the collaborative working, early engagement and common working practices that truly lie at the heart of a BIM-based approach to project delivery.
Unfortunately, there is a common perception amongst clients, architects and contractors that it is building-services engineers who are lagging behind in delivering BIM. Even more unfortunately — to a degree — that perception is correct.
However, for the building-services sector, unlike some other areas of the construction industry, many of the reasons why it's true are technological rather than cultural.
Culturally, building services engineers are used to working collaboratively both with the upstream architectural team and the downstream installation team — which should be making it relatively straightforward for the sector to adapt.
At odds with our cultural readiness to embrace BIM though is the fact that BIM fundamentally challenges the traditional roles and responsibilities within a building-services consultancy. What's more, there has been no definitive response — either from the sector or from training providers — to realigning existing skills and knowledge with the demands of new technology and processes.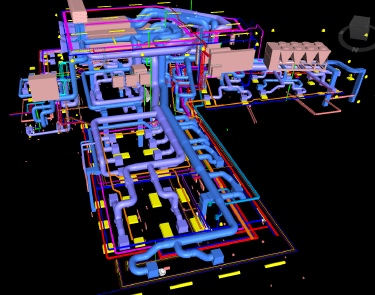 The established roles in a building-services consultancy involve design of the services by an engineer and visualisation by a CAD designer, but there is a massive appetite for a move to Revit because engineers can see the benefits of designing straight into the 3D software. And who can blame them when the software can build and visualise the specification with ease in a single process based on a few engineering parameters?
However, a question remains. Do we train our engineers to use the software or train our CAD designers to engineer? With Revit design skills running so far behind aspirations and a lack of credible training provision to bridge the skills gap, that question becomes even harder to answer.
Then there's the fact that so many architects are still designing projects in AutoCAD rather than Revit. Around 85% of the architects we work with are still working with 2D software, and we simply cannot then crowbar in a 3D building-services design. The building-services sector cannot work in BIM if the project has not been designed in Revit by the architect.
Further issues are experienced downstream due to the varying BIM-readiness of suppliers. This is a problem of both under- and over-preparedness.
Many suppliers haven't inputted their products into Revit and cannot, therefore, be considered for specification on BIM jobs.
Other suppliers have provided too much information, which means that a single component involves a huge data file, slowing down the software and the design process.
The bottom line here is that BIM presents opportunities and challenges across the delivery chain and that those challenges vary for different parts of the design and construction process. However, in order to make collaborative working BIM viable, we must also take a collaborative approach across the sector to addressing the obstacles to implementation.
Building-services engineers are being tasked with a change in working practices equal to moving from manual drawing to computer-aided design. Without greater consistency from both upstream and downstream delivery partners and a skilling process that starts by asking what skills are needed and then provides the mechanisms by which they can be delivered, that transition will be slow and arduous.
Steve Hunt is managing director of building-services-engineering consultancy Steven Hunt & Associates.
Related links:
Related articles: