When good air distribution becomes a priority

As part of the specification for high-end residential properties, especially in London, air distribution plays a key role — both in function and appearance. Rick Edmondson of Waterloo Air Products looks at why air distribution is in its prime when providing high-spec solutions for the luxury residential market.
The cranes are back in central London. One of the sectors experiencing a boom is the top end of the residential market, where postcode goes hand in hand with luxurious specifications. This is opening up new markets for the air-distribution industry, where the provision of comfort cooling and air distribution is listed as a standard requirement.
'Location, location, location,' has long been the mantra when it comes to property, but in a city where supply of suitable sites is limited, developers can achieve a premium through good design and luxury specifications. Examples include London's Chelsea Bridge Wharf project, the St Edward Development in Kensington High Street, The Courthouse in Horseferry Road, Westminster, and Embassy Gardens at Nine Elms.
Such Prime and 'super-prime' developments push the boundaries for fit-outs. Homes at this end of the market are meticulously designed to offer a sophisticated lifestyle with maximum comfort through attractive interiors and cutting-edge facilities. Specifications include the latest kitchens and appliances, bathroom sanitary ware and greater use of marbles, stones and ceramics.
In addition, where air-distribution products were once one of the last components to be considered and installed, they are now recognised as an essential part of a building's infrastructure and an integral part of the design process. Innovative designs, functional choice, extensive size options, broad colour portfolios and, above all, quality are expected.
Waterloo has built a reputation based on technical capabilities, extensive knowledge of airflows, thermal comfort and the ability to design products that perform optimally in a myriad of environments. By translating that expertise across many sectors we have become a supplier of choice for many prime developments, with a portfolio of projects that reflects our expertise, broad product range and commitment to innovation.
As architects become more expressive, clients' expectations increase, and function-to-feature air distribution is integral to a building's design. Unusual but discreet finishes are becoming the norm to satisfy this end of the market. Second best is not good enough, and meticulous attention to detail characterises every aspect of prime projects.
Flawless execution
Manufacturers must have the ability to be flexible and creative. Without a well-planned and designed air-distribution system, effective heating and cooling can be compromised. No architect wants his design undermined, and owners of prime properties buying into a specific lifestyle want the benefits of a conditioned environment without bulky grilles or diffusers on walls or ceilings.
A bespoke solution is often required. Manufacturers need to be open minded to help architects achieve their vision. Grilles can be designed for the intricacies of any interior. They can be straight or curved and be designed to feature discreetly in various colours and textures.
Our Plasterline grille, for example, can be set within walls to provide a subtle but structured appearance, whilst optimising air flows for the space. Flangeless linear diffusers can be re-engineered to fit seamlessly into ceilings surrounded by decorative architraves.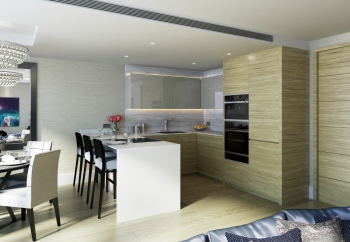 Diffusers can also be customised and designed with as small a width as possible to meet exacting design criteria and aesthetic requirements, enabling integration for any ceiling type.
Working closely with customers and recommending the most suitable air-terminal devices makes it possible to create visually stunning products that still performance optimally.
Some more distinctive building interiors require products that blend in and complement for understated elegance. This can be achieved by using metallic, wood grain, stone effect, carbon fibre or marble finishes. Others may prefer more striking options to make a statement — either through strong colours or a more extreme finish such as animal print.
The large choice of RAL and BS colours, as well as non-standard powder coatings, can make some products hard to spot once installed, whereas others are a feature in their own right, depending on the design objectives.
Collaboration
Collaborative supply schemes and being involved at the start of a project give clients direct access to technical advice and enable them to be guided through the selection process. With in-house R&D and test laboratories, products can be fully tested to improve their performance and suitability for the space they are destined to be used in. Producing any product specification in a BIM format integrates different aspects of the design more effectively, as well as preventing errors at later stages of construction and having a positive impact on overall costs.
Designing and manufacturing products to meet the specifications for high-end properties are becoming more demanding. To address requirements we are continually improving our product offerings. Many of the design features and technical enhancements have translated across our product ranges so that we consistently manufacture exceptionally high quality products regardless of the project.
The future for grilles and diffusers grows more and more exciting, as they are increasingly specified not just for their functionality but as a design feature in their own right.
Rick Edmondson is chairman of Waterloo Air Products.
Related links:
Related articles: