Resistive humidifiers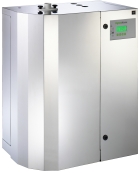 HygroMatik's HeaterLine range of resistive steam humidifiers is designed for applications such as medical environments, clean rooms, data centres, museums and galleries. These units are available in nine sizes with steam outputs of 6 to 225 kg/h. Steam output of over 45 kg/h is obtained by using multiple units in parallel. They can be operated with completely demineralised, partially softened water or tap water.
These humidifiers have powerful blow-down pumps at the base of the cylinder to remove 100% of water to meet all European hygiene standards.
Units come with HygroMatik's SuperFlush scale-management system pre-installed to minimise scale build-up. It can double or treble the cylinder working time between service intervals. Modbus is standard with these units.
HygroMatik's HVAC units are available as BIM objects and can be downloaded directly from its web site.
Related links:
Related articles: