HygroMatik combines reverse-osmosis water treatment with adiabatic humidification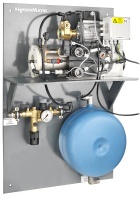 Combining HygroMatik's HPS/LPS adiabatic humidifiers with the WaterLine RO (reverse-osmosis) system (pictured) to deliver clean water to these humidifiers ensures that only the cleanest air is delivered to the space. The WaterLine unit applies pressure to the water through a semi-permeable membrane, allowing only clean molecules through and leaving bacteria and contaminants behind. There is no need for biocide or chemical disinfectants.
HPS and LPS adiabatic high- and low-pressure nozzle systems for air-conditioning and ventilation units are ideal for applications that require a very high degree of hygiene. Examples are offices, clean rooms and data centres.
One benefit of the WaterLine RO system is to reduce the limescale fall-out in humidifiers.
Related links:
Related articles: