The quick-win response to impending legislation
With new regulations to improve the energy efficiency of buildings coming into force from 1 April 2018, the time for landlords to act is now, says James Porter, Sales Director at Remeha Commercial. And when it comes to quick wins, you need look no further than the trusty condensing boiler.
Never look back, goes the saying, but at times looking to the past is essential to achieving our goals. This is particularly true when it comes to the built environment, as 60% of the buildings that will stand in 2050 are already built, making the past very much our future.
Now the Government is preparing to introduce potentially the most significant legislation in recent years aimed at improving building stock in England and Wales — The Energy Efficiency (Private Rented Property) (England and Wales) Regulations 2015.
As of 1 April 2018, the Energy Act 2011 requires Government to introduce regulations making it unlawful to let properties that fail to meet a prescribed minimum energy-efficiency standard (MEES). With commercial buildings alone responsible for 18% of the nation's total CO₂ emissions, according to the Carbon Trust, a figure that has remained static for the last 20 years, the new regulations could make rapid progress in carbon reduction a real prospect. And topping of the list of quick wins for improved building performance are high-efficiency condensing boilers.
The latest annual data from the British Property Federation and IPD states that 66% of commercial property by value is rented. So which of these buildings are affected by MEES? Non-domestic buildings are defined in the Energy Act 2011 as all property let on a tenancy that is not a dwelling. Exempt properties include buildings let on a tenancy of less than six months (as long as granting of the tenancy does not mean the tenant will have occupied the property for more than 12 months) or more than 99 years. All non-domestic rental properties that require an Energy Performance Certificate (EPC), in accordance with the Energy Performance of Buildings Regulations 2007 or the Building Regulations 2010, will be eligible for compliance.
The EPC provides an energy rating for a building based on the performance potential of the building itself (the fabric), and its services (heating, lighting, ventilation). This is currently rated from A, the highest, to G.
The minimum energy-efficiency standard, which is set at an EPC rating of E, will apply to all new lettings and the renewal or extension of existing tenancies from 1 April 2018. From 1 April 2023, it will apply to all new lettings, including existing tenancies.
So what quick win steps can landlords take to raise the EPC rating of their 'sub-standard' commercial properties before the new legislation comes into effect?
Data from the national EPC register indicates that 18% of commercial stock has EPC ratings of F and G, so the implications of the new regulations for landlords are significant. In addition, the 17% of buildings that score an E rating in today's terms could well be downgraded to an F by 2018 as Building Regulations become more stringent and EPC bandings tighter — nearly doubling the number of properties requiring energy efficiency improvements. For rapid savings, ease of installation and affordability, the solution that topped a number of reports was condensing boilers.
In a study by Sweett Group for the Investment Property Forum (IPF), condensing boilers and controls scored high across a range of building types as a quick-win solution that is low cost to implement and has a significant impact on the EPC rating. A review by the Green Construction Board also identifies replacing inefficient boilers with condensing boilers as an effective measure to lift the lower-rated properties.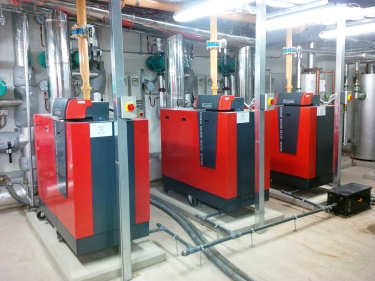 Let's look at how this technology can benefit landlords.
First is the efficiency factor. Condensing boilers use the energy input more efficiently than any other boilers. By recovering both the sensible and latent heat from the flue gases, which is otherwise wasted by conventional boilers, condensing boilers can achieve 10 to 12% higher efficiencies and reduce emissions by a corresponding amount. In properties with 15-year-old atmospheric boilers operating at just 50% efficiency, upgrading to high-efficiency condensing boilers could lift an F or G rated building to a band D, especially if the system is designed to promote lower return temperatures and the appropriate weather compensated control is added.
The second benefit is the ease of installation. Disruption is a major concern for landlords who are often required by terms in leases to compensate any tenants subjected to disruption. The IPF report found that upgrading to condensing boilers or adding a smart control is a flexible measure that can either form part of a general refurbishment during a period of vacant possession or a 'one-off' improvement when a building is wholly or partly occupied. This is an important consideration for landlords, particularly in cases where a lease may be about to expire but the full planned refurbishment of the property is some years away. In such instances, this quick-win solution could make all the difference to the ability to let a property bordering on an F or G rating or allowing it to fall into disuse.
Condensing boilers also score high in terms of affordability. Retrofitting boilers is a relatively cost-effective measure. As such, it is a replicable solution, providing the landlord with the means to refurbish the heating of a series of properties rather than just the one. For landlords with a large portfolio of properties, this has clear appeal.
Finally, the versatility of condensing boilers means that they can be specified either as the sole provider of heat in a quick win scenario, or operate within a heat network alongside CHP (combined heat and power) units to meet peak demand for energy-efficient, low-carbon heating. Not just quick win, but 'win-win'.
The Department of Energy & Climate Change's report 'The carbon plan' states that to achieve the UKs legislative targets, emissions from all buildings must to be 'close to zero' by 2050. This implies that in the longer term, UK buildings will need to reach energy-efficiency standards of close to an A EPC rating.
The 2018 MEES regulations are just the start of the drive for improved energy performance from our buildings. At Remeha Commercial we welcome the challenge and look forward to supporting landlords, specifiers and contractors with our range of reliable, highly-efficient, easy-to-install condensing boilers that will continue to play a key role in decarbonising heat in commercial buildings.
James Porter is sales director at Remeha Commercial
Related links:
Related articles: