Value engineering meets sustainability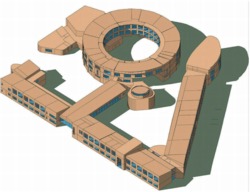 Energy efficiency and sustainability need not be at odds with good, commercial development or be difficult to understand, as multi-disciplinary consultant Gifford is proving.Many developers are reticent about the idea of 'sustainable' construction because they believe it will add substantially to the capital cost of the building. To be fair to developers, the UK market tends not to help, with the exception of public buildings and projects financed over long terms. However, forthcoming planning legislation on energy consumption and carbon-dioxide emissions will force many to think again.
Holistic view
While the thought of PPS22, which sets out the Government's planning policies for renewable energy, will send many developers scurrying for cover, multi-disciplinary engineer Gifford is determined to prove that a well designed, highly energy-efficient building need not cost any more than its traditionally designed counterparts. The skill, says director Andrew Pettifer, is in taking an holistic view of sustainability issues from the start. 'We're saying to people that, if you're a bit smarter, you can spend your money in a different way, rather than spending more money,' he says. 'And to do that successfully, you need to look at the building as a whole.' Gifford believes that the forthcoming legislation will help decision makers in the industry feel more comfortable in the 'sustainable domain'. 'Planning applications will need to set out a project energy strategy, which will then allow better informed and straightforward decisions at key points in the procurement process,' says Andrew Pettifer. 'We have also found that developers have been dissatisfied by employing numerous independent specialists. There is a lack of cohesion in solutions and overall vision, which is really what developers want from their specialists.' Gifford has developed an approach it calls 'Commercial green', a phrase that brings together two ideas that might previously have been thought mutually exclusive. It is a pragmatic and auditable process that sets out to incorporate fundamental energy efficiency measures into the initial design.
Choices
This way, a building becomes far more sustainable simply through appropriate and basic choices such as site location, orientation and amount of glazing. 'This reduces the need for expensive 'answers to problems' and sets the most appropriate platform for then adopting low-carbon technologies. The key though, is that decisions must be made early," says Mr Pettifer. 'Commercial green' is driven within Gifford by a building-sciences team made up of building engineers, all with their own specialisms, but with a fundamental understanding of sustainability issues. The team is 'virtual' and spread throughout Gifford's UK offices. 'People really understand pictures,' explains Richard Quincey, Gifford's technical director for building sciences. 'Thus the key tool in our process is a series of highly visual "mind maps" that help the team understand the site and fundamentals of the building type, the most appropriate energy-efficiency measures and the most appropriate low-carbon options. The mind maps also plot a route through the most significant decision themes, providing guidance on what to do roughly to get the desired overall result.' Gifford's 'mind maps' incorporate every aspect of design that can impact on energy usage in a building — including thermal mass, natural ventilation, stack effect, solar shading — and ultimately reduce reliance on air conditioning and fossil fuel consumption.
Confident solutions
'We have found that this method really frees architects up,' explains Dr Joel Callow, a daylighting expert of Gifford's building-sciences team. 'We are providing a base from which to build confident solutions at a time in the procurement process when time is tight and complex decisions are difficult to make from minimal information.' For many architects, a few minutes' guidance through the mind maps is enough to set them on the right path. In some instances, this is followed by detailed 3D modelling, for which the Gifford team uses IES's Virtual Environment software. 'The beauty of the software is that it is visual as well — a natural next step in design,' explains Dr Callow. The team can incorporate into the model anything that might affect building performance — including site features, building fabric, services and even finishes. Recently the company saved a client £80 000 by checking exactly what specification of glazing would be needed to provide the correct amount of solar shading in a school. The model proved that a lower specification would be more than adequate. The model can even anticipate future weather information to consider the impact of global warming — as far as is possible. This fits well with Gifford's assertion that the 'Commercial green' concept allows clients to make informed decisions about their buildings. Dr Callow points out that the 'Commercial green' philosophy — aimed at reducing reliance on fossil-fuel-driven air conditioning — makes extremely good commercial sense in a world where oil prices are far from predictable.
Gifford, Carlton House, Ringwood Road, Woodlands, Southampton SO40 7HT.
Related articles: