Understanding hybrid lighting
What are the benefits of combining natural lighting with LED lighting into a single lighting fitting? James McGowan of Monodraught describes how two companies have collaborated in just such an approach.
How can hybrid lighting help your building become more energy efficient whilst also improving the environment for the occupants?
After the recent climate-change conference in Paris there is more focus than ever on how the construction industry can continue to support the reduction in energy consumption for residential and commercial buildings.
True sustainability is about people, planet and prosperity.
Light has one of the biggest impacts on health and wellbeing of all people and animals. Hybrid lighting is a combination of natural daylighting and artificial illumination. Hybrid lighting systems allow use of available natural daylight and supplement it with the right amount of artificial light to bring the total level of illumination to the required value for a specific room.
Considering lighting costs and environmental issues for the industrialised world today, there is a financial incentive to use higher-efficiency lighting and a responsibility to design sustainable buildings. Hybrid lighting is an ultra-low-energy lighting strategy that considers both cost and user friendliness.
The goal of hybrid lighting development is to find the practical middle ground — costs that are manageable and future savings that are significant as well as creating user-focused smart lit spaces that allow healthier and more productive indoor environments.
Hybrid lighting systems are produced by a combination of four technologies: collecting natural light; generating artificial light; transporting and distributing light to where it is needed; and, most important, continuously controlling the amounts of both natural and artificial light during usage.
The importance of energy conservation and illumination quality have been understood for a long time, but little changed in business and home lighting systems from the end of the Second World War. Recently, however, political and financial incentives have arisen that urge improvements in these areas. With the Paris agreement in place, there will be increased pressure on the countries involved to look at how to drive energy consumption down, whether that be through incentives or regulation.
Monodraught and Photonstar have developed Sunpipe Luxloop which maximises the benefits of both Sunpipe and Luxloop LED systems. During daylight hours, the Sunpipe collects healthy natural light with its patented high impact acrylic diamond dome, directs it through the Micro-Silver mirror-finished aluminium tube and distributes it evenly through the ceiling diffuser.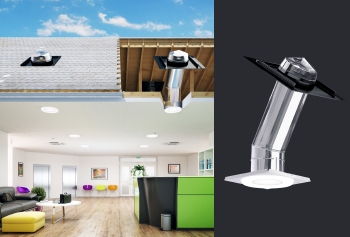 Our extensive testing with BRE showed how the performance of the dome and tube material is sustained over time. We were able to show that the Sunpipe could maintain its performance consistently throughout the entirety of its product life.
The system is complemented by Photonstar advanced Luxloop LED system and intelligently managed by the Halcyon wireless control system. The integration of Sunpipe increases the life of the LEDs, which leads to fewer replacements, and significantly reduces the energy use of the system compared to a solely electric alternative. The double-glazed system minimises heat-loss gain and achieves high thermal performance. The result is a complete and ultra-low-energy lighting system suitable for any location, offering guaranteed lighting performance and expected to have a lifetime of 50 000 h.
Daylighting refers to the use of natural light in buildings and has a great influence on wellbeing and sustainability — creating visually and thermally comfortable indoor environments, maximising electric lighting energy savings and minimising peak energy demand. One of the most compelling reasons for using natural daylighting systems is to counter the effects of carbon emissions.
Research suggests that a successful daylighting design — one that factors in taming glare and solar heat gain — increases occupant productivity and comfort, and provides the mental and visual stimulation necessary to regulate Circadian rhythms.
Circadian lighting refers to a lighting strategy that considers the circadian rhythm. Circadian lighting systems are designed to take into account time and change to not only vary the colour and intensity of the light that we see, but also control the amount of blue light throughout the day from a stimulating 'biological light' to a restful 'biological darkness'.
Hybrid lighting systems designed for Circadian lighting in industrial and commercial working environments could cut artificial light requirements in half. By combining natural light and improved artificial sources available today — centralised, high-efficiency light sources —energy costs for lighting could be reduced by a third.
The Sunpipe Luxloop has been optimised for biology, provides effective room surface illumination to reduce cave effect, assists in meeting both LG7 and URG19 and BREEAM requirements, increases productivity and reduces absenteeism.
Related links:
Related articles: