Heat interface unit takes control to a new level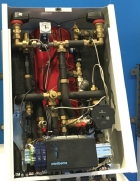 Zero's heat-interface unit achieves significant improvements in efficiency and fuel-cost savings with the use of its built-in Minibems control technology. Acting as the 'brains' of the HIU, Minibems is a building-management system that monitors and controls a heat network to reduce cost, improve efficiency and improve ease of management. The information available enables, for example, the temperature of the primary flow to be controlled.
Other capabilities include weather compensation and the fast and accurate modulation of the control valve for domestic hot water to provide sufficient hot water while maintaining a low primary return temperature.
The built-in pump for the heating circuit can have its speed controlled right down to zero.
Minibems can be managed remotely anywhere there is an internet connection. A Grundfos VFS sensor in the HIU reports flowrate information and temperature back to the cloud-control platform.
On a larger scale, Minibems delivers control, monitoring and visibility of all aspects of the heat network — enabling installers and service engineers tasked with making efficiencies in existing heat networks and delivering cost savings for customers. The cloud platform has been designed for portfolio management, which will benefit from a single point of access to data for heat networks under their supervision.
Four types of Zero HIU are available.
• Single-plate indirect heating.
• Twin-plate indirect heating.
• Single-plate indirect heating with direct cylinder management.
• Single-plate direct heating and instantaneous hot water.
Related links:
Related articles: