Sophisticated control for underfloor heating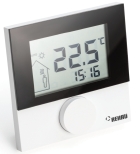 Rehau offers a family of underfloor-heating controls that are integrated with its range of floor systems to provide a truly compatible solution for light-commercial and residential projects. The NEA Smart System has just three core components — the base station and a choice of two room thermostats that can be wired or wireless.
The system is simple to set up and operate. However, behind this simplicity is a sophisticated and responsive system that optimises energy efficiency and comfort by adapting to the pump being used and the user's programming behaviour.
The system uses low-voltage wiring so it can be installed by the same installer that is responsible for the underfloor heating. Up to 56 areas can be controlled.
The system can be operated remotely via the internet via a smart phone or tablet interface or by integration into a home-automation network.
Rehau's own figures indicate energy savings of up to 20% using the NEA Smart System compared with an underfloor heating system without.
Related links:
Related articles: