Fused G clamps make safe connections to electrical busbars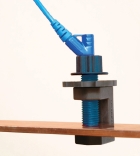 Martindale Electric's range of insulated Drummond G clamps is designed to provide safe and easy connection to busbars for voltage measurement. These moulded G clamps eliminate the need to drill the busbar by providing a safe and reliable connection via a 4 mm socket in the clamp.
The clamps are colour coded in black, brown and gray to match the colour coding of phases in a 3-phase system. A replaceable 500 mA fuse can be incorporated into the clamping screw.
A spring-loaded contact pin and locking ring ensure reliable results throughout extended logging periods.
The clamping pin and locking ring have a fluted design that enables them to be tightened by hand whilst wearing PPR insulated gloves.
Related links:
Related articles: