Testing times for emergency lighting

Testing emergency-lighting systems manually can be a very time-consuming task — and it is all too easy to miss something vital. Steve Marr of Legrand explains the benefits of automating the process.
The digitisation of the modern workplace has paved the way for offices to become some of the most energy-efficient buildings operating in the UK. Yet in the event of a power cut during an emergency it is often ageing electrical infrastructure that is responsible for the safe evacuation of the building.
We are fortunate in the UK that we have excellent emergency-services teams on hand to support us in times of crisis. However, if disaster strikes in the workplace then employees must be able to quickly and safely exit the building, often well before the emergency services can arrive.
Given how disorientated being in darkness or smoke-filled corridors can be, effective emergency lighting is key to establishing familiarity and also highlighting the safest exit.
Emergency lighting systems are a legal requirement in any public building, in line with BS5266-1:2011. Employers which fail to maintain their buildings to this standard will quickly find themselves facing hefty criminal charges. However, businesses and landlords risk complacency if they feel that such a system, which only just meets the minimum requirements, renders employees the event of an emergency.
Given the ageing nature of much of the UK's commercial building stock, many — as much as 80 % — of these emergency-lighting systems are often examined and tested manually, generally during the middle of the night or when the building isn't operational. Whilst such systems may have been installed in line with the requirements outlined by the British Standards, in the current age of advanced building-management systems (BMS), the maintenance practice has serious room for improvement — given the risk for error it represents.
In the main, emergency-lighting systems consist of self-contained emergency luminaires, whereby the emergency light is activated when the power is cut and an inverter transfers the power over to a built-in battery that takes over as the emergency power supply, powering the luminaire for a minimum of three hours.
Where potentially dangerous issues can arise is during testing and maintenance. In a typical emergency-lighting installation, like many of those found across thousands of UK commercial buildings, a functional test of the emergency lighting system must be done once a month. This is where the power is cut and the emergency lighting is checked to ensure everything functions correctly. A full duration test must then also be undertaken once a year, which also involves cutting the power, but in this instance the battery output must also be checked after three hours.
Whilst this system works in principle, relying on manual testing is not watertight given the technological advances that are now available in the market place. All it could take is one engineer to fail to spot a faulty fitting, forget to record a replacement that needs to be made, or write down the wrong fitting for a system to become a serious health and safety risk.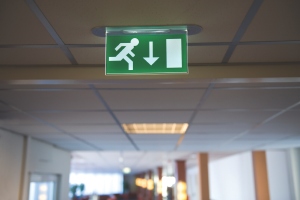 However, as is often the case, there is a simple solution. Many emergency-lighting systems already operate using the DALI protocol to control the luminaires. In recent years we have seen the introduction of emergency-lighting control systems which use both KNX and DALI, allowing for 2-way communication between the luminaire and the control system. Making this upgrade to an advanced lighting-control system, or considering it when commissioning either an extension or new build, can easily eradicate the risk of any emergency lighting system failure going unnoticed.
By using an advanced lighting control system, such as Electrak Buscom with Lightrak lighting-control units, the end user and the luminaire can effectively communicate with each other. The end user can program the luminaires to run the full 3-hour test at specific times, monitor all fittings, check they are able to successfully switch into emergency mode and then report on the status of the tests, what has happened, whether there have been any failures and if any replacements need to be made. Crucially, it can also alert the building's facilities manager if the lamps are not working. Even if the luminaire's battery is working, if there is a fault with the lamp then the emergency system will fail.
However, an advanced lighting-control system really comes into its own when feeding into a graphical interface connected to the BMS, sometimes known as a 'head end', which allows the end-user to extract all the information into an easily digestible format, as well as control scheduling of further tests. End-users can also see a graphical representation of floor layouts, with specific alert markers to point out where particular fittings aren't working. It can even be programmed to deliver email or text alerts to the building maintenance team, informing them of any failures and whether the problem is with the battery, the fitting, or the lamps, so they can fix them right away.
As such, there is no need for manual testing, and any potential faults can be recorded automatically — removing the risk of human error and any associated effects on the emergency lighting.
Ultimately, from the end-user's perspective, monitoring and controlling an emergency-lighting system via the use of advanced lighting control will remove a very long-winded and time-consuming maintenance process, as well as the associated risk of potential human error in not testing any lights correctly or failing to log any repairs that need to be made.
It offers full reassurance that the emergency-lighting system is fully operational and will perform its essential job in an emergency. Given the advances in technology in recent years, employers cannot afford to fall short in this area. Investing in an advanced lighting-control system can take the risk out of emergency lighting systems, giving employers peace of mind that — if disaster does strike — they can rely on their lighting system to guide employees to a swift and safe exit.
Steve Marr specialises in power distribution at Legrand UK.
Related links:
Related articles: