Myson LST range includes narrowest model on the UK market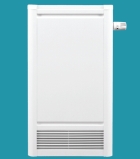 Myson's LST (low surface temperature) range of radiators includes what the company claims is the narrowest model on the market, at 420 mm wide. The 420 mm model comes in three heights (650, 850 and 950 mm). There are LST Super and LST Super Plus model options. All radiators come with an 'A' rated thermostatic radiator valve.
The LST casing covers the heating element and pipework and complies with 'NHS Estates health guidance notes, 1998'.
The case of the LST Super is 107 mm deep, and the LST Super Plus is 157 mm.
The smooth, rounded casings have no sharp edges. Casings are easily removed for decorating, cleaning and maintenance. These LST radiators carry a 10-year manufacturer's guarantee.
Related links:
Related articles: