Modular boilers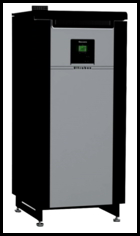 MHG Heating's Ultrabox range of gas-fired condensing boilers covers capacities from 210 to 1125 kW. Up to 16 boilers can be cascaded. Efficiency is up to 110% with an 8:1 turndown ratio. NOx levels are low, at 34 mg/kWh.
These boilers incorporate automatic frost protection and built-in time control. Each boiler can control up to four separate heat zones and domestic hot water. They can be interfaced to a BMS, with the option of remote monitoring.
No side clearance is needed, so the installed footprint is up to 30% smaller than other models. The smallest boiler in the range has a footprint of just 0.72 m2.
Related links:
Related articles: