Hoval launches CHP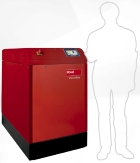 Hoval's extensive PowerBloc range of CHP (combined heat and power) units offer electrical outputs from 20 to 520 kW and heat outputs from 43 to 687 kW. These units deliver combined efficiencies of over 90% when running at optimal output and are fully compliant with CRC Energy Efficiency Scheme targets.
They feature fully automatic control, including synchronisation with the mains distribution network, as well as simple BMS integration for external control and monitoring. An onboard touchscreen interface provides local access to operational and diagnostic functions
They should be combined with Hoval thermal stores to optimise operating efficiencies in low-load conditions, thereby avoiding rejecting heat without being able to use it.
PowerBloc units can be supplied pre-assembled, skid-mounted or containerised.
Related links:
Related articles: