Put an end to HEAT WASTE
Recycling our rubbish has become second nature in the UK. But we are missing an opportunity to recycle our heat.
There have been some significant steps forward over recent years with high-efficiency or condensing boilers, which feature larger heat exchangers recovering more energy from the flue gases, now dominant. But technologies such as mechanical ventilation with heat recovery (MVHR) are rarely seen in domestic situations as, although recognised within SAP calculations, they are only mandatory for dwellings built to PassivHaus, or the Canadian Super-E specifications.
The latter two standards have been responsible for shaping some of the UK's bestperforming properties, but our own aspirations for having all new dwellings designed to the Code for Sustainable Homes Level 6 were shelved.
Cost has also constrained the targets for improving the millions of existing properties which often score a 'D', or lower under an EPC. This means our homes are frequently cited as being responsible for more carbon emissions than transport or industry combined.
However, looking across our infrastructure, manufacturing and even power generation, it is all too easy to see where heat energy is going to waste.
It is not just huge cooling towers spewing out steam, but our nuclear power plants sucking in millions of gallons of seawater to cool the reactors, or factories 'dumping' process heat in rivers.
Compared to many of our European neighbours, the UK's uptake of so called district heating schemes - or heat networks - has been negligible.
HNDU Initiative
Inevitably, recovering and effectively redistributing waste heat is logistically challenging, with local authorities necessarily having to be involved if a crosssection of consumers and companies are to benefit across a locality. Addressing this, the government set up the Heat Networks Delivery Unit (HNDU) in 2013, to assist councils in meeting challenges of capacity and capability as well as feasibility.
The primary aim of the government's HNDU funding has been to move consumers onto schemes connected to centralized Combined Heat and Power plant or renewable heat sources. Significantly, district heating projects being fed by incinerators are growing in number.
Since its inception the delivery group has provided seven rounds of funding, along with guidance, and is now involved with Round 8. In total HNDU has helped support over 200 unique projects across 140 local authorities.
The Department for Business, Energy and Industrial Strategy (BEIS) reports a number of recent successes which are widely spread, both geographically and in terms of the technologies used.
A million pound grant enabled Camden Council in London to expand the existing Somers Town Energy heat network using a gas powered CHP engine under a HNDU pilot project; while Westminster City Council used the same technology and a £2.56 million grant to create the Church Street District Heating Scheme.
Biomass was added to the mix by Crawley Borough Council as it accepted £1.4 million of funding to create a heat network in the town centre, offering users both efficiency and affordability. And a £3.51 million grant enabled Colchester Borough Council to establish the Northern Gateway scheme with a large scale heat pump installation.
One of the most far-reaching schemes so far implemented under the HNDU initiative is to be found in Sheffield where the city council has linked two existing networks with the heat energy coming from a waste plant. There a £3.5 million loan was added to a £2.24 million grant.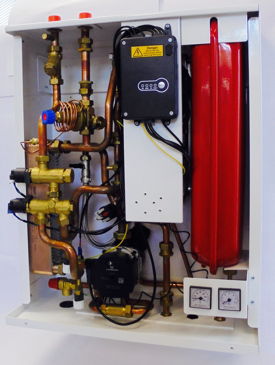 Despite their scale and impact, projects such as these can be viewed as merely the vanguard: for significantly, it is estimated that by 2050 around 18% of UK heat will need to come from heat networks if the UK is to meet its carbon targets in a cost-effective manner.
Code of Practice
Further impetus was offered by CIBSE in 2015 through the publication of its much anticipated Code of Practice for Heat Networks. The 96 page document represents a significant collaboration between CIBSE and a number of influential organizations, including the Department for Energy and Climate Change and ADE, or the Association of Decentralised Energy. The lead author for the code was Paul Woods of Cofely - formerly AECOM.
In particular, the new code attracted the attention of social housing providers whose estates, sheltered schemes and other multi-occupancy developments are often ideally structured to benefit from district heating. Additionally, the landlord avoids the logistical challenge of carrying out annual gas safety checks in individual dwellings.
As well as offering valuable guidance on assessing the feasibility of schemes, and the most suitable heat sources, the CIBSE document explains how to calculate the capacity required to meet demand: in effect predicting the number of households likely to be drawing energy at the same time.
Manufacturers of heat interface units should be able to not only offer specification advice, but also provide 'diversity' tables to assist in calculating the potential loadings.
Because the heat source is communal and will only be used by a proportion of the connected properties at any one time, the total capacity required will be lower than where individual boilers are provided. Instead modern heat interface units or HIUs are normally installed in corridor service cupboards, or sometimes inside the home. Importantly they must be specified to match a system's characteristics like temperature and flow rate, while they can also be customised to suit such needs as space limitations in retrofit applications.
Options such as the Stokvis Energy Systems H2 heat interface unit is able to supply both heating and hot water, while using high performance plate heat exchangers to create separation between the distribution mains and the water within a dwelling.
Fabric insulation standards for modern builds will often set the space heating load for a flat as low as 8kW, while the hot water demand for cooking and personal care could be between 30kW and 50kW; depending on the number of bathrooms. A diverter valve will prioritise the hot water supply while, along with distribution or other losses, DHW demand will dictate the peak load for sizing the entire system.
Early district heating projects earned a poor reputation due to water leaks or energy losses – and even Pharaoh ants infesting ductwork. Improved jointing and integral insulation have addressed these issues, but poor controllability and an inability to charge customers for what energy they use continued to stifle the success of otherwise high-quality installations. Which is why the modern heat interface unit has the potential to finally deliver scale to district heating.
With wind farms proving not only unpopular, but costly and unreliable, and other renewable technologies such as wave power still in their infancy, the short to medium term viability of UK energy policy remains dependent on making best use of waste heat and existing, mainly fossil fuel-based generation. Modern heat networks using HIUs to meet consumers' precise needs offer a ready solution.
Paul Sands is sales and marketing director of Stokvis Energy Systems
Related links:
Related articles: