Boiler meets 2018 NOx requirements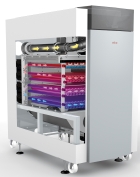 Elco's Trigon XL range of floor-standing gas-fired boilers achieves ultra-low NOx emissions complying with Class 6 (2018) requirements. There are seven models, with outputs from 150 to 570 kW, an 8 bar working pressure, 30 K ∆T and a very compact footprint.
The low NOx emissions are achieved using a commercially proven pre-mix burner system that includes a fully modulating water-cooled cold-flame burner. This is combined with an optimised combustion system and stainless-steel heat exchanger. Seasonal gross efficiencies are up to 97.5%.
All boilers in the range can pass through standard 760 mm-wide doors, with factory-fitted cargo wheels enabling the boiler to be easily manoeuvred into its final position.
For applications where access is restricted, the modular assembly enables a boiler to be dismantled and reassembled in half a working day.
The inspection glass and ignition electrode can be fitted either side of the unit, enabling flexible boiler configurations and positioning on site.
Access for installation and commissioning is made simple by an integrated flue-gas damper and rear flue connection.
Integrated master/slave cascade functionality can connect up to eight boilers. In addition, upgradable control-module capacity provides straightforward connections for additional heating zones, solar energy or external heat sources.
Related links:
Related articles: