Water treatment for commercial heating systems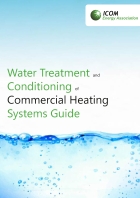 The Industrial & Commercial Energy Association (ICOM) has published a guide to commercial water treatment in response to industry concerns of poor water treatment and conditioning in commercial heating systems.
The guide focuses on water treatment for boilers and heating systems, and many of the leading commercial-boiler manufactures have contributed to it.
The guide is designed to be read and understood by plant operators, engineers and people with little of now knowledge of water-treatment chemistry. It is intended to help them understand what effect any water and its subsequent treatment will have on a heating system.
Ross Anderson, director of ICOM said, 'The consequences of inappropriate or non-existent water treatment can prove costly to rectify and give rise to arguments between equipment manufacturers and plant operators.
'The treatment of water in closed and open heating systems is essential for the avoidance of fouling, biofouling, corrosion and scale. These problems can result in energy wastage, poor system performance and the need for early replacement of heating system components.
'Any installation must be thoroughly flushed and cleaned before it can be filled and used. ICOM's comprehensive guide deals with all aspects of water treatment for commercial heating systems.
'By studying the contents and following the freely given advice, heating systems will operate more efficiently with less chance of failure.'
Related links:
Related articles: