Toilet cisterns put air-conditioning condensate to good use — and earn BREEAM points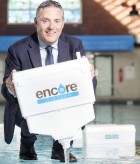 A toilet cistern that collects condensate from air-conditioning units to flush toilets can secure two extra BREEAM and LEED points for a project. The Encore (environmental condensate recovery cistern) was developed by Graham Kelly and David Davis (pictured) of UK building-services company G&H Group. It is particularly applicable to hotels.
Data from hotel benchmarking specialist STR Global shows that 15 119 rooms in 114 hotels are currently being built in the UK.
Compared to traditional cisterns, using Encore would save each hotel 1.92 Ml of water a year, based on standard 80% occupancy levels. [Those numbers suggest eight flushes per day per room, and were confirmed by a phone call — Ed.]
Water savings in hotter countries would be greater.
Encore cisterns hold 18 l of water and can use 1.5 to 6 l for a flush. Mains water is introduced into the cistern if the condensate flow is not enough, and excess condensate is drained away.
These cisterns are compatible with industry-standard rack mountings. They use gravity to feed condensate water into the cistern, not electric pumps.
Related links:
Related articles: