Getting smart with cabling

Making buildings smarter isn't just about digital technologies, it's also about getting smarter with construction processes. Mark Redfern of Wieland Electric discusses the benefits of structured cabling.
Buildings are undoubtedly becoming more 'intelligent' in terms of how they are designed and constructed and the ways they make use of the latest technological advances. Many of these advances should also make the ongoing operation and maintenance of the building more straightforward through its life — one of the key drivers behind the use of Building Information Modelling (BIM).
However, with digital innovations hogging the limelight it's important not to lose sight of the 'basics' — and, as far as the building's services go, you don't get much more fundamental than the cabling. Cabling is essential for the building's efficient performance and habitability, as well as providing the connectivity required for smart performance. I would therefore argue that it's important to apply the principles of intelligent construction to the cabling methodology applied to the building.
One key advantage of a smart approach to cabling is the ability to reduce the overall costs of construction for the end client. Use of a structured wiring system with 'plug and play' connectivity, supplied complete to site for easy connection, has been shown to generate a significant reduction in installation time.
Experience across many such projects has confirmed that savings of 70% in installation time are typical when structured wiring systems are used. When this data is analysed intelligently by considering the slightly higher capital costs of structured wiring compared to traditional wiring, there is still typically an average 30% saving on final installed cost.
The fact that structured cabling delivers significant savings in installation is also very welcome, as is giving the end client a better solution.
These benefits were clearly illustrated during a refurbishment project at Belmont, an 11 600 m2 office redevelopment in Uxbridge, Middx where our Metalynx2 modular wiring system was the preferred choice for all power and lighting distribution.
Craig Batten, project manager at Phoenix ME Ltd commented, 'Metalynx2 and the relevant Wieland products we used made this installation very straightforward. We had deadlines to meet, as with all our projects, and by using a high-quality, well trusted brand that will be delivered on time and ready to install is extremely important to us. The added advantage is that the products are extremely easy to install, which ensured that the work was carried out within our dedicated timescale.'
Additional time-savings can be achieved by making use of other innovative developments, such as a flat-cable connection system that combines a busbar and cable into one product. These use a safe tap-off adapter with a piercing contact that eliminates cutting and stripping of cable, thereby reducing installation time considerably.
Whilst 70% is an average saving in installation time across all types of project, there are certain project types where the benefits can be even greater. Obvious examples include high-bay lighting, where any work requires specialist access equipment.
There are also clear benefits to integrating different types of cabling when possible to maximise the efficiency benefits. An example would be the use of structured wiring to not only connect the supply of light fittings, fan-coil units, small power and clean sockets; but also integrate it with a DALI (Digital Addressable Lighting Interface) based programmable control system.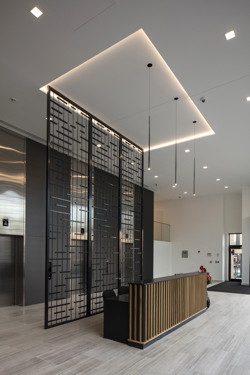 In order to remain marketable, modern commercial buildings must be equipped with intelligent building automation, so the installation architecture and its functionality must be quick and easy to modify in order to keep pace with rapidly changing usage requirements. Here, KNX or wireless bus topologies can be built into the system efficiently and at low cost — again using plug-and-play technology to deliver the flexibility that the end client requires.
Whilst there are clear benefits that can be achieved during the initial installation of the services, there are further, ongoing benefits through the life of the building.
For instance, it is very unlikely that any commercial or industrial building will remain unchanged through its life. With traditional wiring, any necessary re-configuration would be time-consuming, expensive and disruptive. In contrast, structured wiring brings an inherent flexibility that makes it very easy to re-configure lighting or other small power to accommodate changes in building usage or layout.
Moreover, the components of a structured wiring system can be re-used, whereas with conventional wiring there is considerable waste during a re-wiring project.
It is also important to be aware of any changing requirements that result from the introduction of technologies such as LED lighting. As well as the energy saving and longer-life benefits of LED lighting, the smaller light sources support the use of more discreet lighting systems with compact luminaires.
However, if they are used in conjunction with traditional bulky cabling these aesthetic benefits may not be realised. Structured wiring systems offer an alternative by making use of the latest generation of 'micro-connectors' that will fit into very small spaces.
Intelligent buildings are already a reality, and smart construction processes will very quickly become the norm as BIM becomes the project-delivery model of choice. In ensuring that a smart approach is applied at every level, structured cabling has a key role to play in both the construction and the ongoing management of these smarter buildings.
Mark Redfern is managing director at Wieland Electric Ltd.
Related links:
Related articles: