Waterloo's collaboration with V&A Dundee captivates visitors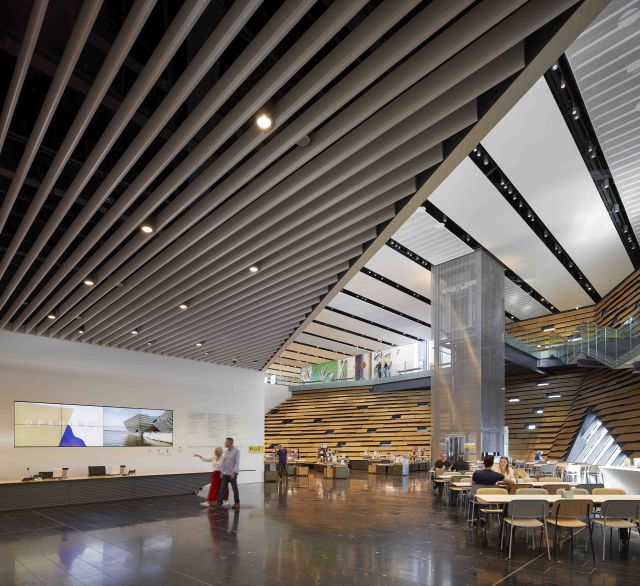 V&A museum which sits on the banks of the River Tay in Scotland, is part of a £1 billion waterfront transformation in Dundee. The museum has been described by its award-winning Japanese architects as a 'living room for the city' and has attracted world-wide publicity and thousands of visitors due to its futuristic exterior and impressive gallery spaces.
Inside, as part of the monumental development, air distribution products were supplied by manufacturer Waterloo Air Products. Beyond its curved concrete walls and cutting-edge construction, a state-of-the-art cooling and ventilation system was installed.
Waterloo first became involved with the V&A Dundee Museum project five years ago, in 2013 when discussions began with design engineers, Arup, about how to create a comfortable, controlled environment in the V&A Dundee. This was made possible thanks to VAV controllers providing a dynamic range of duty into the gallery and other areas.
As part of the project, designers researched and identified the most appropriate form of renewable energy for the building. There were complexities of high ceilings, unusual angles and varying visiting numbers within the gallery, however Waterloo worked with Arup to create the perfect environment.
Waterloo supplied air terminal devices the building and they are used throughout the museum including the kitchen, various meeting rooms and the washroom facilities. Waterloo's WRS and WLMD - variable air volume controllers – were installed to control the volume of air passing through the ducts, to the air terminals, independent of the air volumes supplied from the air handling unit. These units have been designed to automatically cope with variants in footfall so it will increase air volume when a high number of visitors are in the building.
V&A Dundee, with its cavernous entrance, has no straight external walls and has been designed to create the appearance of a Scottish cliff face. Inside, there are two gallery spaces – one dedicated to Scottish design which features 300 exhibits, and the other for temporary exhibitions. It's the only other V&A museum anywhere in the world outside London and designers wanted to create a place of inspiration, discovery and learning. Its mission was to enrich lives through design, whilst continuing to be a welcoming state-of-the-art space for people to enjoy. Overall, energy-efficiency has been a big consideration for the project.
Related links:
Related articles: