Air conditioning — with plusses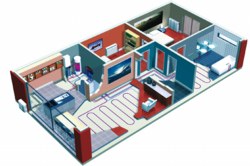 With the launch of integrated concepts in applying air-conditioning technology, Daikin looks set to attract considerable interest.It is less than a year since the formation of Daikin Airconditioning UK by integrating Daikin in the UK and three independent distributors. The company was formed in October 2005 and now claims to be the air-conditioning market leader in the UK with annual sales of over £100 million — for equipment only. The company recently moved to a new headquarters in Weybridge and has support bases in Bristol and Glasgow. There are sales offices in Manchester, Birmingham, Glasgow, Bristol, Edinburgh and Arlesey in Bedfordshire. Daikin's installers enjoy the support of training centres at Woking, Birmingham, Glasgow and Manchester. The last year has also seen the setting up of an 11 000 m2 central warehouse at Rochester operated by Christian Salvesen. It can hold £5 million-worth of stock, with a next-day delivery service by a network of 560 vehicles. Daikin is well known for its VRV multi-split air-conditioning systems and chillers. One of the first product launches of the new company was VRVIII, capable of supporting up to 64 indoor units from a single heat-pump system and featuring automatic refrigerant charging. A 1 MW chiller was also launched. This year's programme includes two products that are aimed at the housing market and a combined refrigeration and air-conditioning system for small retail and convenience stores. Conspicuously not air conditioning, but based on air-conditioning technology, is the Altherma system for heating and cooling homes and providing domestic hot water. It is based on an air-to-water heat pump to provide hot water for radiators or an underfloor heating system. The outdoor unit of the Altherma system extracts heat from the air and transfers in to the indoor hydro box, which contains the controls and user interface. Domestic hot water is stored in a stainless-steel tank. The lower part of this tank is heated to 55°C by the heat pump, and an electric booster heater in the upper part of the tank tops up the temperature as required. A cooling option of the hydro box can provide moderate cooling by circulating cooled water through radiators and underfloor systems. More effective cooling can be provided by fan-coil units. The heat pump can handle the full heating load for 90 to 95% of the year, with direct electric heating providing support on the coldest days — achieving a balance between installation costs and on-going energy consumption. As self-contained an air-conditioning system as you will have ever seen is the Ururu Sarara split system. It can humidify (ururu in Japanese) without an external water source, dehumdify (sarara in Japanese), provide ventilation, purify the air and — of course — cool.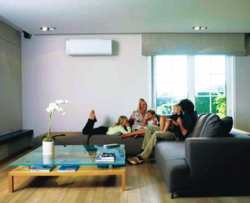 q Daikin's Ururu Sarara split air-conditioning combines the functions of heating, cooling, humidification without a water source, dehumidification, ventilation and air filtration and purification.
Humidification is achieved by a rotor absorbing moisture from outdoor air and releasing it to the indoor air via a small hose between outdoor unit and indoor unit. That same hose also provides for ventilation, and a system can completely change the air in a 26 m2 room within 2 h. Air filtration is incorporated, as well as several stages of air purification to break down odours, viruses, moulds etc. Ururu Sarara is in three sizes to provide 2.8, 4.2 and 5.0 kW of cooling. Heating capability is 5.1, 4.3 and 4.0 kW. The smallest system achieves a COP of 5.0 in cooling. Daikin has also applied its refrigeration expertise to develop a combined refrigeration and air-conditioning system for small retail and convenience stores. Conveni-pack combines the functions of serving chilled- and frozen-food cabinets with heat-pump air conditioning. It was launched in Japan in 2003, and there are now over 20 000 installations.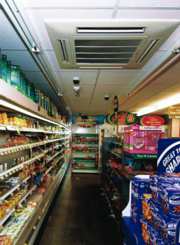 By integrating the functions of heating and cooling the space and serving cold and frozen cabinets, Daikin's Conveni-pack system achieves an energy-efficient installation with less outdoor plant.
Combining all three functions offers considerable energy-saving potential, particularly during winter when exhaust heat from freezers and refrigerators can be used to meet the space-heating requirement. Conveni-pack integrates four outdoor condensing units into a single unit, achieving a 60% reduction in installation footprint and lower noise levels than other systems. The system also addresses the problem of cold aisles that is common to convenience stores. A typical installation could comprise two outdoor units serving four indoor fan-coil units, one of which could be used as an overhead door heater, and several display cabinets from other companies. Each pack includes three compressors, providing backup and prioritising operation of refrigeration, heating and cooling at all times.
For more information on this story, click here:
Aug 06, 95
Related links:
Related articles: