A faster route to Part L2 compliance
Using iSBEM (Interface to Simplified Building Energy Method) to determine the carbon footprint of a building is a slow and tedious process. LUCY HARRISexplains the many benefits of a different interface.In April 2006, the latest upgrade to the Building Regulations Part L2A was released. It included a necessity to show that a development's annual carbon emissions (linked to energy efficiency and renewables) would fall within the limit set by the Department of Communities & Local Government (DCLG, formerly ODPM).
Learning curve
A hushed silence followed as design teams, services engineers, energy consultants and council officers prepared for a steep learning curve and more strict Building Control criteria. Now, nine months on, industry is starting to get the hang of it all, and the Government is developing strategies for managing this more stringent process as the first buildings are submitted. For non-domestic building designs to demonstrate compliance with the carbon-emission requirements of these latest revisions, the annual carbon impact needs to be calculated using a software tool approved by the DCLG. Due to the recent release of the latest Building Regulations, Part L compliance is regularly being considered towards the end of the design process, often as building work is about to begin. However, since it is tougher to comply with these new Building Regulations, developments can be put on hold while a route to compliance is saught — with the hope that the development does not have to return to planning. This task is helped by software that offers a straightforward way for design teams to check Part L compliance throughout the design process and from the outset, encouraging the ramifications to be dealt with early on. Southfacing has identified the need for a simple to use, stand-alone, low-cost compliance checking tool, to significantly improve on the iSBEM interface (based on Microsoft Access) to SBEM (Simplified Building Energy Method) that is provided by DCLG and be significantly cheaper than other more complex building simulation packages. The biggest improvement offered by Carbon Checker, which uses SBEM as its core, over iSBEM is the entry of the geometry of the building. Rather than enter the data as numbers in text boxes, the user describes the building using geometric shapes in a 2D/3D graphical interface. Those proficient using CAD software will be able to get results on complex buildings in a matter of minutes. The 3D viewer can be used at any time to check that the building is sensible.
Guidance
Non-technical users can be guided through model set-up via a project wizard, which helps enter data such as wall and door constructions and HVAC settings. Compliance buttons down the left hand side turn from red to green as the necessary information is completed; guidance is provided if certain values are missing. The user can either build models from scratch or enter geometry by tracing over CAD DXF drawings.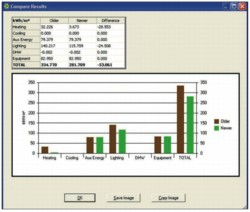 The facility to compare the effects of changes against the original design provides a cost-effective way of achieving Part L compliance.
There is a global glazing geometry setting which allows the user to test different glazing scenarios quickly and another which enables the orientation of the building to be changed; these features are not provided in iSBEM. The user can compare different models and results side by side and track changes to identify the most cost-effective way of achieving Part L compliance. The successful results can be officially included as part of a Building Control submission. The range of features in Carbon Checker enables compliance to be checked in a matter of hours. In contrast, the more manual nature of iSBEM means that achieving a pass can take days.
Accredited
Carbon Checker has been officially accredited by DCLG which means that not only can it be used to help optimise a building design against Part L2A during early design stages, but it can also provide official results that can be included within a Building Control submission. Southfacing will continue to develop Carbon Checker following user feedback; these will include updates of the latest versions of SBEM, gaining all the necessary approvals from DCLG. Carbon Checker training will also be provided in the New Year to feed into the BRE's Competent Person's Scheme.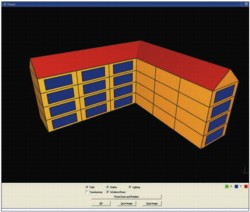 With glazing having a major effect on the carbon footprint of a building, the ability to test different glazing arrangements quickly is a valuable feature.
Help options include an online forum at www.southfacing.co.uk/forum. Future developments will see generated suggestions on design optimisations and tools to assess the contribution from the low- and zero-carbon technologies. It is hoped that with Carbon Checker now a simple to use, affordable 'early doors' option, the complex world of new Building Regulations has just got a little easier.
Lucy Harris is a director with Southfacing Services Ltd which, provides low carbon and energy-consultancy as well as software tools. An annual license for Carbon Checker costs £450, more information can be found at the web site www.southfacing.
Related links:
Related articles: