Exploiting renewable energy effectively
We increasingly understand the need for exploiting renewable energy and the theory. Using it in practice is the final — and more complicated stage — says
Graham Blandford.
Renewable energy, it seems to me, is going through three stages. We have passed through the first stage by recognising the need. Few would now disagree that our long term energy position will rely on renewables — from major projects round to the equally useful renewable systems in homes and other buildings. We are also becoming familiar with the theory, how renewable systems work and what their contribution is to energy saving and the environment.
Theory into practice
Now comes the last, but I think the most difficult stage — turning need and theory into practice. How do we make sure that renewables deliver their potential in real buildings, occupied by real people who need real warmth and hot water? This article concentrates on those two energy uses, since in most buildings they represent around 80% of year-round energy use. A good first step is to recognise that renewable heating systems are not like conventional heating systems. Specifying a boiler and heating system gives a degree of latitude so that the system will work effectively even where it has not been designed down to the nth degree. Typically a boiler and radiators will keep the building warm, provide hot water and even cope with small shortcomings in installation. That is where the 10% for luck comes in.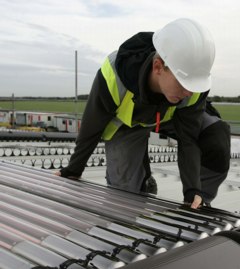 — This large pool complex provides an ideal opportunity for exploiting solar energy using vacuum tubes.
With renewables the practical approach has to be different. The system has to be closely designed and installed to suit the all the variables — pattern of usage, the building and the interface with other systems. This requires a degree of analysis before the project starts and skill in installation that meets each different need — by guess and God is not enough. Depending on the type of renewable energy being exploited, different factors need to be considered in the planning and installation. Using solar energy to help produce domestic hot water may not be a good solution if the demand for hot water is small and irregular. You should also consider the orientation of the building and whether the solar system be linked to the existing heating system to provide top up and maximise the solar input? You should also consider if an adequately sized water cylinder can be used; too small a store will cut the solar input. Using a ground-source heat pump requires space near the building for heat extraction pipework or for bore holes. The thermal requirement of the building should be minimised so as to minimise the size and capital cost of the heat pump? Would a small supplementary heat source reduce capital costs? Could air-source heat pumps provide an alternative? It is practical issues like these that require the client, the designer and the contractor to consider each project carefully.
Practical project
One project that has now been running for some time where any number of practical problems had to be overcome is the Camphill Village Trust, a 650 acre community which is home to some 330 people, including those with learning disabilities, at Botton in North Yorkshire. The trust has always taken a positive attitude to the environment and looked for ways to improve the use of energy in its 30 buildings, most of which relied on LPG or oil for heating. Many of the buildings were built in the 1960s or 1970s and had the thermal insulation values of that period. The approach adopted was to change existing outdated boilers ( in some cases AGA cookers and water heaters) with the highest efficiency condensing boilers possible. Viessmann Vitodens boilers have been used, which are controlled by weather compensation devices. This approach will, it is estimated, make savings of 30% to 40%. Solar water heating has been added to several of these existing buildings.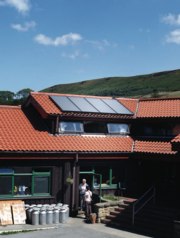 — 10 m2 of solar panels generate hot water for the daily washdown of the creamery in Camphill Village Trust in North Yorkshire.
In the newly built village store the decision was made to use a ground-source heat pump with boreholes sited in the car park. 5 m2 of Vitosol plate solar collectors provide domestic hot water, which is stored in a 500 l cylinder. A 200 l store acts as the buffer for the heat-pump system; this is backed up by a 44 kW Vitodens boiler, but it has not been required since the heat pump was commissioned. A larger hot water demand in the village creamery is met by 10 m2 of solar panels. This hot water is used for the daily washdown required in the building. Solar water heating is also used in the farm building for washdown in the milking parlour. Future renewable-energy equipment being considered for other buildings includes pellet boilers and Vitovent controlled ventilation/ heating recovery units. Erwin Weekes, who manages the village, adopts a practical approach to energy use. 'We use the system that makes the most sense, upgrading boilers and adding solar in existing buildings and looking at fully renewable in newly built ones. Where we can, we like to use our resources, like wood cutting from our 100 acres of woodland.' Vitotec Solutions of Scarborough designed and installed the systems. Botton village illustrates the point that there should not be a one-size-fits-all approach to renewables. Matching systems to needs, money and the building was the approach taken — and the width of equipment choice, both conventional and renewable, allowed the contractor to maximise the energy saving potential for Botton Village Trust.
Graham Blandford is marketing manager with Viessmann UK.
Related links:
Related articles: