Reducing the environmental impact of fans
Precise controllability, more reliability and less energy — new energy efficient motors in fans deliver direct benefits to the HEVAC industry.
Paul Kilburn
explains what this means for ventilation.The Government, in its national quest to reduce our greenhouse gas emissions, has sharpened its focus on the energy performance of buildings. In the drive for better air quality, greater energy efficiency and lower carbon emissions, the latest editions of Building Regulations Documents Part F and Part L are now beginning to take effect.
Setting the standard
These parts of the Building Regulations have signalled a big shift towards energy-efficient buildings and have set the standard for the maximum carbon-dioxide emissions for whole buildings. This performance-based approach offers designers the flexibility to choose suitable solutions which allow for adequate means of ventilation for people in the building and which are energy efficient, cost-effective and practical. However, the revisions to Part L have raised performance standards to a level that has provided a strong incentive to designers to consider low-carbon systems, not least the development of the SAP Appendix Q process for ventilation, which affects positively the role of mechanical ventilation with or without heat recovery and with DC motors on emissions from dwellings. In the context of increasingly demanding environmental legislation and rising awareness of the need to reduce energy consumption, energy-efficient motors look set to expand their share of the market for industrial, commercial and residential ventilation. There are two main types of electric motors: direct current (DC) and alternating current (AC). Compared to AC motors, DC motors are faster, more efficient and offer more accurate control of speed and position control. Moreover, while AC motors produce an audible 60 Hz hum, DC motors are much quieter. DC motors are also usually smaller than AC motors, providing manufacturers with the opportunity to design applications that are smaller with different styles and looks. Generally, DC motors draw less current (about two to four times less) and therefore consume less power compared to an AC motor with equal output capability. DC motors also work better for situations where speed needs to be controlled as they have a more stable and continuous current. DC motors are finding their way into new products and applications that previously used AC motors exclusively. Vent-Axia has used DC technology in its LoWatt for several years to spearhead the campaign to deliver more affordable long-life ventilation. Our residential and commercial product ranges are all available with DC technology, improving performance, reducing running costs and extending fan life — whilst ensuring reliability. The next stage is the EC motor, which offers the efficiency and speed control benefits of DC, with built in AC to DC conversion and speed control. EC motors (electronically commutated) are better and more efficient at every speed — but it does not stop there. Utilising EC motors in fan systems offers many benefits. For example, EC fans can use as little as a third of the energy of industry-standard AC fans. EC fans also offer easy, quiet and efficient speed control. All the electronics are built into the fan, making other components more efficient. The greater reliability and longer life of DC and EC motors has the further advantage of extending the life of insulating materials, lubricants and bearings, thereby cutting the cost and inconvenience of return service visits. EC fans save energy and increase the longevity of products, whilst reducing lifetime costs — thereby adding value. They significantly reduce noise and generate less heat than conventional AC and DC motors. The EC motor's compact design makes it easy to install in any position, which opens up this motor to a wide range of possible applications. As technologies become more advanced and cost-effective, we should expect to see more innovative low- energy fan systems introduced to the market featuring different designs as well as improved performance.
Significant contribution
With indoor environmental control accounting for almost half our national energy consumption, it is clear that the HEVAC industries can make a significant contribution to achieving national targets for reduced carbon emissions by exploiting DC and EC technology (according to figures from the International Energy Agency). Simply using fans with high efficiency could save industries in Europe as much as Euro2.6 billion a year in energy costs. By optimising the motor, impeller and the fan housing, 60% less energy is needed than with comparable AC motors.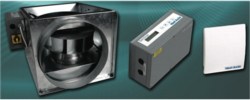 — The inherent efficiency of electronically commutated motors and the ability to control their speed easily enables products such as the Sentinel demand-based ventilation system to minimise the energy consumption associated with mechanical ventilation.
DC and EC fans make possible a range of solutions to meet the changing requirements of the industry. For example, the Sentinel demand-based ventilation system utilises EC motor technology; it has a low specific fan power and is designed to work with modern building-management. EC motors are infinitely speed controllable and offer increased energy savings at all speeds compared to conventional inverter-drive solutions. With the new Building Regulations now taking effect, choosing a fan with a DC or EC marks an important step in meeting the specific fan-power requirements.
Paul Kilburn is sales and marketing director with Vent-Axia
Related links:
Related articles: