Exhibitions show the way to complying with the latest Building Regulations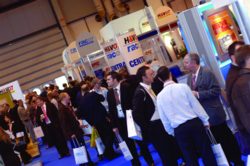 In preparation for the Building Regulations coming into full effect in April, manufacturers in the industry have been developing products and systems to meet the requirements for energy efficiency and renewable energy.Conventional wisdom has it that an interval of two years for a major exhibition is necessary for there to be sufficient innovation to avoid too much sameness. Well, the last showing of the H&V and RAC exhibitions was indeed two years ago, at the National Exhibition Centre in 2005. Since then, the 2006 Building Regulations have been published, and the 12-month transitional period is about to end. Thinking in the industry is dominated by carbon emissions, carbon footprints, renewable energy and SBEM and SAP calculations as part of obtaining planning permission.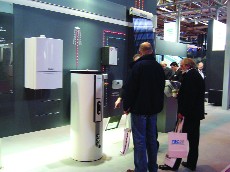 — Solar thermal systems to contribute to the production of domestic hot water were a common feature at the show. This is Vaillant's stand.
It is hardly surprising, therefore, that exhibitors showed a huge variety of new products and systems aimed squarely at helping the industry address these issues. Whichever way you looked, there were solar thermal panels to harness sunlight to help generate domestic hot water, heat pumps to provide space heating with lower carbon emissions than boilers (even condensing boilers) and biomass boilers using wood chips and wood pellets to deliver carbon-neutral heating. Using 10% renewable energy on site is one of the requirements for planning permission, and all these technologies are designed to help achieve that.
Biomass
A growing number of boiler companies are honing up their expertise in biomass boilers, including Broag. Dave Hardwicke, of Broag suggests that if a third of the boiler requirement of a project is provided using biomass, the 10% renewable energy requirement on site will be satisfied. Broag itself offers biomass boilers with outputs from 20 kW to 6000 kW, modulating down to 30% and with automatic stoking from a silo using either wood pellets or wood chips — depending on the mechanism. Efficiencies in the range 91 to 93% are achieved.
— According to Broag, installing biomass boilers to meet a third of the boiler requirement in a building will satisfy the 10% renewable-energy requirement on site.
The Broag stand had wood chips from Thetford Forest, and Dave Hardwicke tells us that a cubic metre can provide 800 kWh of heat. Volume for volume, wood pellets are more effective — at 3000 kWh/m3. A lorry can deliver 30 m3, so Dave Hardwicke suggests planning for 36 m3 of storage to give a buffer and that wood pellets are a better choice for urban environments. Hoval is another company offering biomass boilers — and, indeed, has done so for several years in the UK. The latest addition to its BioLyt range is a 70 kW model using wood pellets. This range is now available in sizes from 10 to 70kW, offers up to 95% efficiency and has fully automatic controls so that it is as easy to use as gas- or oil-fired boilers. BioLyt boilers can switch off when not required and re-ignite when heat demand is restored. Ian Dagley of Hoval also puts into the perspective of ash disposal. He tells us that the ash residue is only about 1%, which is stored in a container that needs emptying only once or twice a heating season. To keep wood burning as clean as possible, BioLyt boilers have self-cleaning heating surfaces to avoid soot deposits and maintain the efficiency of the heat exchanger.
Heat pumps
Hoval also has extensive expertise in solar thermal technology and heat pumps, based on many year's experience in Switzerland and other European countries. The company's Thermalia standard range of heat pumps comprises 17 models with outputs from 5.4 to 81.1 kW using R407C and achieving operating temperatures of up to 45°C. Higher operating temperatures, up to 65°C, can be delivered by the Thermalia H series, which uses R134a. There are ground-source and water-source models. Hoval also offers air-to-water heat pumps with outputs from 6.6 to 34.4 kW.
Renewable energy
Although interest in renewable energy in the UK is growing by leaps and bounds, it is generally tried-and-trusted technology. Graham Blandford of Viessmann tells us that their stand did not have any new technology but that people were much more receptive to it than they were two years ago — and that awareness is rising all the time.
— Viessmann has developed the use of heat pumps for space heating to a fine art. This is the Vitocal 200 ground-source heat pump.
Graham Blandford explains that utilising renewable energy effectively requires a different mindset to fossil fuels such as gas, where as much instantaneous power as required is generally available. 'We take the view,' he says, 'that renewable energy is a jogger, not a sprinter, so you have to store it — especially with solar thermal. 'We also decouple heat pumps from their heat load with a thermal buffer vessel to as to be able to use a smaller heat pump and maximise compressor running time. One possibility is using off-peak electricity. Control is vital, so we also provide night setback and weather compensation for space heating systems.' Such features are incorporated into Viessmann's Vitocal 200 ground-source heat pumps. They have outputs of 6.1 to 9.7 kW and flow temperatures up to 60°C, making them suitable for radiator systems as well as underfloor. Also included is a natural cooling function, which gives the option of circulating cooler ground-sourced water during the summer to give cooling with minimal energy use.
Water heating
Complying with the latest Building Regulations also requires that energy use is reduced, and the manufacturers of equipment for generating domestic hot water are steadily introducing condensing water heaters. Rinnai, for example, claims to have launched the first condensing, continuous-flow water heater in the UK with the Infinity Condensing 24e. The cold mains water condenses water vapour in the flue gases and achieves a reduction in fuel consumption of 12 to 14% compared with conventional water heaters. 24e water heaters can also be linked with solar thermal panels to exploit renewable energy.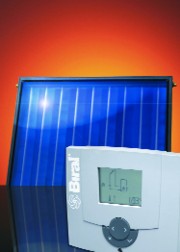 — Solar-powered hot water for commercial applications — Hamworthy's Modusol system.
Solar energy is also used by Hamworthy's Modusol solar hot-water system for commercial applications. Mike Shaw, sales and marketing director, says, 'The Modusol system is a natural extension to the Dorchester range of direct-fired water heaters and includes high-quality solar collectors, a Biral solar-energy control system, high-performance Powerstock calorifiers and storage tanks — all designed to achieve a fully integrated system.' Andy Pennells of Andrews Water Heaters, which launched its SOLARflo DHW system for commercial applications last summer, neatly encapsulates the growing interest in this technology. 'It is all people want to talk about. We have enquiries coming out of our ears. The main interest comes from consulting engineers, driven by the need to achieve 10% renewable energy on site. Price is not an issue, and the use of solar DHW is specification driven.' Andrews has a demonstration rig of its SOLARflo system at its Wednesbury headquarters and has installed systems at County Hall in Bedford and a residential nursing home in Maidstone. At the same time as boiler companies are diversifying into heat pumps for space heating, air-conditioning companies are meeting them head on from the opposite direction.
Heat pump for space heating
Daikin's Altherma system is based on an air-to-water heat pump to provide space heating and domestic hot water for homes. It has been steadily rolled out across Europe, and installations have been monitored in France and Norway. H&V07 marked its first public showing in the UK. Altherma is said to be up to five times more energy efficient than a fossil-fuel boiler. An Altherma system consists of an outdoor unit and an indoor hydro-box, which contains all system controls and user interface. Heat extracted from outdoor air is used to generate warm water for supplying to underfloor heating or radiators. David Green, senior sales manger with Daikin UK, explains, 'The heat pump can handle the full heating load for 90 to 95% of the year, making use of a back-up heater to handle the remaining load on the coldest days. This option results in the best balance of installation costs and the ongoing energy consumption within the home.' There are three Altherma systems, with outputs from 5.7 to 8.4 kW. They use less than 3 kg of refrigerant, so they are not affected by the impending F-gas regulation. David Green tells us that considerable interest is being shown by councils, local authorities and housing associations. One attraction of the concept is it avoids the issues associated with gas-fired heating.
Carbon-dioxide refrigerant
A similar approach was shown by Sanyo, but using carbon dioxide as the refrigerant to avoid concerns about the high global-warming potential of HFC refrigerants if they leak into the atmosphere. Carbon dioxide is also said to offer better performance at the temperatures associated with air-source heat pumps and wet space heating and DHW. Called CO2 ECO, the Sanyo system comprises a self-contained air-source outdoor heat pump, with energy transferred to an indoor thermal-storage vessel, via a coil, by pipes carrying a water/glycol mix. The storage vessel has a capacity of 220 litres and stores water at 65°C. Stored water is used directly for space heating. Domestic hot water is generated directly from the cold mains by passing it through a coil in the storage vessel. An electric heating element is provided for use when necessary. The performance is impressive. With an outside air temperature of 7°C and water stored at 65°C, a COP of 3.75 is claimed. The outdoor unit has a power consumption of 1.03 kW. Systems have been sold in Nordic countries for two years.
Solar-powered air conditioning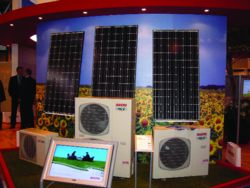 — Solar-powered air conditioning — photo-voltaic panels to help power split air conditioning systems were shown by Sanyo.
The Sanyo stand also stopped people in their tracks with a large display of solar-powered air conditioning. As shown, three solar photo-voltaic panels of about 1 m2 each generate up to 205 W of electricity. The electricity is delivered to a inverter, which adds mains electricity as required to power the air-conditioning system. Barry Hennessy, Sanyo Air Conditioners general manager for the UK and Ireland, tells us that for a split system with 12.5 kW of cooling, solar power can meet 10% of peak load and up to 50% at part load. While PV kits are expensive, the concept provides another approach to on-site renewable energy.
Related articles: