The benefit of boilers with split personalities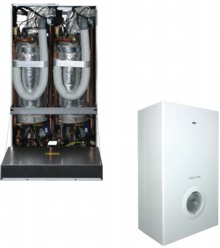 Using the same boiler for different tasks, such as delivering space heating and generating domestic hot water, need not be an unsatisfactory compromise.Providing cost effective space heating and hot water is a key part of building-services design. Originally, one boiler was used to provide both heating and domestic hot water. The introduction of direct-fired water heaters in the 1970s to generate hot water close to the point of use, improved energy efficiency and reduced running costs. That was the era of separate and decentralise — that is, separate the provision of space heating and DHW and decentralise the plant.
Reversing the trend
However, the latest commercial boilers are reversing this trend, and once boiler can be used for three different heating functions. Vokera, for example, has developed a boiler that can run three circuits requiring water at different temperatures. The new high efficiency CondexaPRO can simultaneously deliver water at the appropriate temperatures for radiators, underfloor heating and domestic hot water. Peter Crutchley, director of the company's commercial business unit, explains that with the introduction of Part L2 for commercial heating installations, the use of high-efficiency products with accurate control systems has become even more important. 'The new generation of commercial boilers will be modulating rather than 2-stage or on/off. This will reduce burner cycling and result in a more precise matching of burner/boiler and load, representing significant energy savings for end users, as well as reduced carbon emissions.' The secret of such a boiler is the separate control of three circuits at different temperatures. A high flow temperature can serve radiators, a low temperature can be delivered to underfloor heating, and there is a third circuit for DHW. Each circuit is totally independent. Peter Crutchley says, 'It's no longer just about providing a high-efficiency boiler, but engineering that product to be totally flexible. In addition to high turn-down ratios, controls are playing an even bigger part to ensure boilers remain in high-efficiency mode across varying heat demands.' Pre-packaged boilers like the CondexaPRO are gradually changing the light commercial end of the heating market. Where previously a boiler/burner package would be specified, compact wall hung boilers like CondexaPRO can be more cost effective. Available with outputs of 50 and 100kW, these boilers can be installed in a modular master/slave configuration to deliver outputs from 13 to 353 kW with flow/ return temperatures of 80/60°C. The fully modulating burner means efficiency is maintained, with 108.7% (net) at 30% of full load. 50 kW boilers have a single heat engine, and there are two heat engines in 100 kW boilers.
Flexibility
The flexibility of such boilers suits them to both new build and refurbishment, in commercial and public buildings, as well as multi-occupancy or large private homes. One of Vokera's first installations was for a private home in Scotland, where one boiler provides underfloor heating for the ground floor, water for radiators on the first floor and domestic hot water throughout the home. Where larger outputs are required, a simple master/slave PCB arrangement allows the master unit to control up to 60 heat engines (potentially 2.65 MW), and gives the system designer a high degree of flexibility. Each boiler incorporates a master and slave PCB for each heat engine using a serial bus connector that can be utilised to connect additional slave units). In turn, each slave unit incorporates two slave PCBs (one for each heat engine), and this allows easy and simple site set up. The master PCB provides independent control up to three different heating circuits and their required temperatures and also allows prioritising of the circuits. For all energy users low carbon emissions are key, and the CondexaPRO has a European Class 5 classification for NOx emissions, at less than 20 ppm. In the drive for lower carbon emissions, and higher efficiency, centralised plant deserves another look.
Related links:
Related articles: