How Grundfos responded to the economic pressures of making its own motors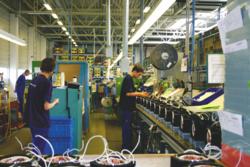 So important was it to Grundfos to continue making its own pump motors that production of a whole range of motors was transferred to Hungary.Just over five years ago Grundfos Pumps was facing the problem of all high-wage economies — how to compete in a world where manufacturing can easily be transferred to other countries where labour costs are lower, often much lower. Neils Møller Jensen, general manager at the Grundfos factory at Tatabánya in Hungary explains that a third of the cost of making small-volume pump motors for inline and ported pumps applications in Denmark, where Grundfos has its headquarters, is labour. To maintain competitiveness, the company was faced with either sourcing motors from other manufacturers or moving their production to a country with lower labour costs.
Strategic supply
To Grundfos, motors are a strategic supply, and outsourcing was not considered viable. Neils Møller Jensen explains that to keep abreast of technology, Grundfos has to make its own motors and continue research and development that led to it becoming a pioneer of variable-speed drives incorporated into pumps themselves. A feasibility study identified Hungary as the best alternative to Denmark, and the decision was made in March 1999 to transfer production to a new factory. The economic argument is strong. Labour costs in Hungary are a sixth of those in Denmark, reducing the cost of making a motor by about 17%. In the short time since manufacture started, productivity is approaching 90% of Danish levels. Manual work includes inserting coils into the stator and making electrical connections. The 13 000 m2 factory is an important employer in this former mining town and produces around 800 000 motors a year to supply group factories within 24 hours by road. 80% go to other Grundfos factories in Europe. Another 13 000 m2 factory on the same site takes 20% for its own pump production. There is space on the site for a further 7700 m2 to be added to each factory.
Success story
The transfer of motor production from Denmark is considered by Grundfos to be a major success story. Neils Møller Jensen says, 'By making motors ourselves, we control supply and quality and ensure high standards of motor efficiency. We need to preserve our capability for developing motors and their application to pumps.'
Related links:
Related articles: