Taconova introduces valve actuator for underfloor heating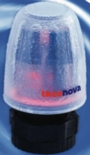 Taconova's IP54 protected RA57 TopDrive range of actuators is described as versatile, robust, easy-to-install and ideally suited to underfloor-heating systems.
A variety of electro-thermal actuators are designed to fit the vast majority of heating-circuit manifolds and radiator valve bodies used in domestic, commercial and public-sector underfloor-heating applications.
The electrical and electronic components are fully encapsulated to protect them from leaking valves. There is also the possibility of the actuator facing downwards.
RA57 valves are normally closed. In operation, an electrical resistance heats an expansion element within the actuator. Any deviation from nominal room temperatures leads to an appropriate stroke movement to the valves.
The thermostat and actuator operate on the on/off principle, with variably rhythmic opening and closing producing an almost continuous control characteristic, depending on the room demand.
These actuators can be integrated with Taconova room thermostats and time switches.
For more information on this story, click here:
Apr 09, 168
Related links:
Related articles: