Honeywell valves reduce water wastage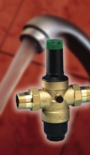 Honeywell's pressure-reducing valves provide an effective method of reducing water consumption in all types of building.
The water pressure to many premises is much higher than necessary and contributes to wastage when taps are on for uses such as washing hands. Other benefits include less flow noise and protecting installations from damage caused by excessive pressure.
These valves are available in brass in DN15 to DN50 sizes and in cast iron for larger buildings. They have an integral filter to protect the valve insert.
For more information on this story, click here:
july09,203
Related links:
Related articles: