Exploiting the scope of VRF heat pumps

The heat rejected from air-conditioning systems can be used to generate domestic hot water and reduce carbon emissions. Philip Ord describes a real installation.
Figures from Defra's Market Transformation Programme (2006) show that providing heating and hot water accounts for over 50% of the energy consumed by non-domestic buildings.
Initial modelling from the Defra study of gas- and oil-fired water heating boilers and warm-air and radiant systems showed annual carbon emissions of 10.8 Mt.
The model also shows that there is a link between the efficiency of a gas-fired boiler and its age — ranging from 50% for a pre-1979 gas boiler to 81% for boilers from 2007.
As a nation, we have to increase the efficiency of commercial heating systems to meet Government targets — which has the added advantage of helping a businesses reduce fuel bills. This is where I believe that heat pumps can offer real hope, with advances in the technology delivering performance and efficiency levels that simply were not possible even 5 to 10 years ago. Modern heat pumps have advanced over recent years and can now outperform an equivalent gas boiler for heating by at least 3 to 1.
Many commercial premises already have VRF air conditioning, offering a real possibility for much more energy-efficient provision of heating and hot water.
Firstly, modern heat-recovery air conditioning can and should be used for both heating and cooling completely negating the need for 'traditional' wet-heating systems.
We have carried out extensive tests at our Hatfield offices which clearly demon­strate that a VRF ground source heat-pump air-conditioning system is much more effective at heating and cooling a building than the traditional method of using a boiler in the basement and a chiller on the roof.
The results also demon­strate that the much more common air-source VRF heat-pump air-conditioning system is also much more energy efficient and cost effective than the traditional method.
Second, advances in VRF technology now demonstrate that providing hot water through the heat-recovery process of VRF heat pumps can offer average efficiency levels of 400% in comparison.
It is difficult to find accurate figures of the size of the commercial boiler market, but even if the general inefficiencies, generation and transmission losses of the national grid are taken into account, it is obvious that a system with a performance of 400% plus will give you a better carbon reduction performance and a more efficient delivery system than one working at 81% — let alone older boilers working at only 50%.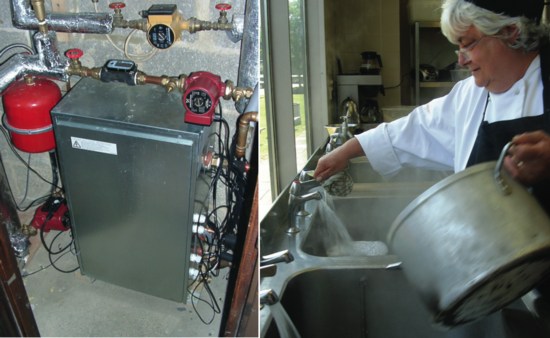 The best of these VRF water heaters can allow building owners to get rid of their commercial gas and oil boilers as they can even work with off-the-shelf water cylinders to provide customers with added functionality, ease and convenience.
If all VRF air-conditioning systems were optimised in this way, could we completely replace the need for carbon-based water-heating systems? That is not to say that the wet systems would themselves become obsolete as a method of delivery to the building but that the heat source would change from gas boilers to heat pump boilers.
This would not even have been imagined 10 or even five years ago. However, we now have data from our own live trials that prove that a VRF water heater is far more cost effective and produces far less CO2 emissions than traditional methods of water heating — with demonstrated savings of 78% in both running costs and emissions over the previous system.
These trials were conducted in the busy kitchen in our Hatfield offices and show that the unit, costs less than a quarter of the running costs than the previous electric immersion system and about half as much as a modern gas condensing boiler system.
This water heater has been supplying all the hot water required by the 3-storey building's busy kitchen, which serves a 100-seat restaurant offering cooked breakfasts and lunches five days a week. The system produces water at up to 70ºC and we now see the potential for companies to effectively receive all of their hot water virtually for free.
The heat-pump boiler uses a cascade refrigeration cycle to raise the water temperature, instead of simply discharging any excess heat from the refrigerant to the air as in a conventional split-type air conditioner. This effectively provides free hot water and is far more fuel efficient than other systems, helping to reduce running costs.
Such products are available right now, and these systems offer a serious and viable alternative to both commercial and residential gas boilers. We can also expect the efficiency gap and the cost benefits to increase even more as the price of gas and oil continues to rise.
Philip Ord is VRF product marketing manager for Mitsubishi Electric. The issues discussed here are part of Mitsubishi Electric's Green Gateway Initiative, which highlights how to reduce energy consumption in our built environment. Further details can be found at the dedicated website below.
Related links:
Related articles: