Ductwork industry works to enhance its reputation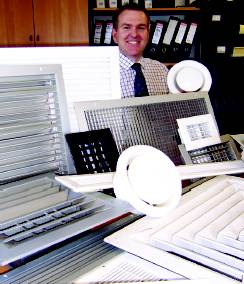 Recognising that ductwork is an important service in buildings, an industry association has been working to increase the expertise and reputation of this sector – as PAUL ADLAM and ALAN WEIR told us.Of the wide range of services that are required in buildings today, both new-build and refurbishment, the ductwork that distributes air is growing in importance. With the latest Building Regulations requiring a high degree of air tightness, leakage can no longer be relied on to provide adequate ventilation, so ductwork is necessary. Paul Adlam, president of the Association of Ductwork Contractors & Allied Services, asserts, 'Ductwork is a necessary requirement in most buildings these days. When ductwork is required, the installation is a large part of the services package.' Unfortunately, the adversarial approach adopted by many contractors during the 1980s and 1990s led to many people leaving the industry. Adding to that loss of skills and experience is the steady and inevitable loss of older people. And as ADCAS secretary Alan Weir, explains, there was a long period when there was very little investment in youth and training in the ductwork sector.
Issues
Something clearly needed to be done, and as an association of a large proportion of installers, manufacturers and suppliers in the ductwork industry formed eight years ago, ADCAS, has seized the initiative. Paul Adlam says, 'Ductwork installation is a specialist discipline within building services. As specialist companies, ADCAS members had to address training issues — both for the benefit of their own businesses and for the assurance of clients, consultants and contractors higher up the project chain that projects would be executed competently and professionally.'
Academy
The training programme by ADCAS was initiated a little over four years ago, and rapidly gathered momentum. Its success has prompted Paul Adlam to put on his presidential agenda the establishment of a skills academy for ductwork apprentices. ADCAS presidents hold the office for two years, and Paul Adlam is not yet halfway through his term, so he has hopes that the foundations for the Academy can be laid during his tenure. At the last ADCAS annual general meeting, he said, 'This industry faces a critical shortage of skilled labour. If we don't do something about training and make ductwork an attractive proposition for school and college leavers we won't get the young blood we need. I believe that the creation of a ductwork academy that would teach students everything from draughting/CAD and manufacture to installation, testing and balancing is a very practical solution to a very real problem.' By taking the initiative and developing an implementing a comprehensive training programme, ADCAS is aiming to instil confidence that choosing a member company will contribute to the smooth running of a project and a problem-free installation.
Maturity
Part of the ADCAS approach to addressing recruitment and training needs has been to raise the age for intakes from member companies from 16 to 17. Alan Weir tells us, 'Recruits aged 16 dropped out very quickly. Raising the intake age to 17 has improved stability; that single year gives a remarkable difference in maturity.' The approach to training is based on National Vocational Qualifications (NVQs), which are based on ability to do the job, rather than purely on knowledge. NVQ2 and NVQ3 qualifications have been developed; there is no NVQ1. Bexley College in Kent is the centre in the south of England, with Alliance Learning of Bolton covering the north. The courses are accredited by City & Guilds, with assessors from Bexley College and Alliance Learning. Gaining an NVQ2 qualification for installing ductwork on site takes two years. NVQ3 is geared up to foremen and supervisors, and nearly half of people with an NVQ2 are progressing to the higher qualification. Long-standing staff receive appropriate accreditation for prior learning.
Management skills
To develop and accredit a company's management skills, a diploma course in project and management skills has been established There are six modules, each taking a day and spread over a period of about six months. This diploma is aimed at key people in a company. A 2-day site-supervision course complements the package. 'The benefit of the ADCAS training programmes to the building-services industry at large and clients is,' says Alan Weir, 'that a trained workforce gives uniformity across the trade. Installation work is carried out in the same way — the correct way.' He used to be with building-services contractor Barratt & Wright in Norwich and is thus experienced at the sharp end. He describes himself in his new role as 'poacher turned gamekeeper'. Both Paul Adlam and Alan Weir are pleased with progress, but their enthusiasm is not waning. Both want to see even more progress towards developing professionalism in the ductwork sector. Paul Adlam in particular believes that the industry needs an all-encompassing qualification covering all elements of the skills needed by a modern ductwork company — estimating, manufacturing, CAD, management and working on site. He believes that the result will be more-rounded people who understand their part in an entire project — both for the benefit of the project and fully exploiting their own capabilities.
Better buildings
The ADCAS initiative followed 15 years of very little investment in youth and training in the ductwork industry. Its success can only be for the good of the building-services industry as a whole and lead to better buildings.
Related links:
Related articles: