The LED light bulb arrives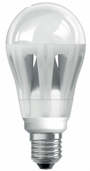 Osram is about to launch a range of LED light 'bulbs' that can be used as direct replacements for incandescent and halogen lamps. Lamps in the Parathom range have a life of 25 000 h, 80% lower energy consumption than traditional lamps and excellent light quality. They will be available with bayonet and screw bases.
The Parathom CLASSIC A 60 (pictured) is a genuine replacement for a conventional 60 W GLS lamp and has a comparable light output. They are fully dimmable.
There are also two replacements for PAR 16 lamps, an 8 W version to replace a 35 W halogen lamp and a 10 W version to replace a 50 W halogen lamp.
Osram is also introducing two low-voltage dimmable LED lamps to replace MR16 halogen lamps. The 20 W equivalent consumes only 5.5 W, and the 35 W equivalent consumes only 10 W.
Related links:
Related articles: