Condensed wisdom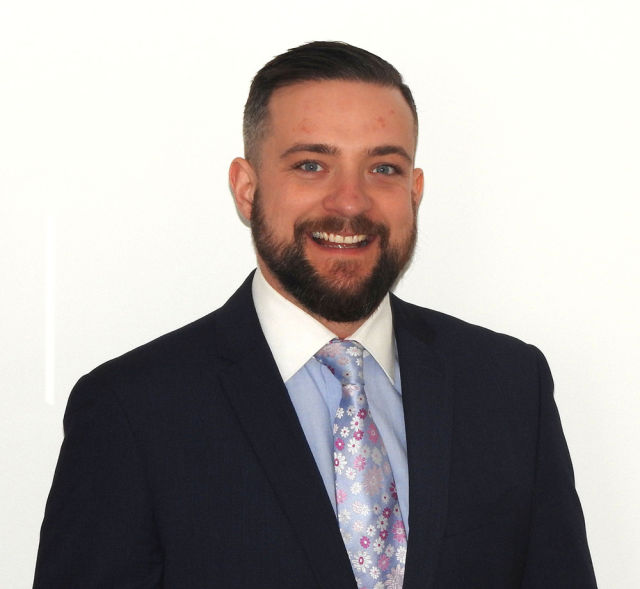 Ryan Kirkwood looks at how a combination of good boiler selection and efficient design can help overcome installation challenges in older buildings
When the giant old Netherton boilers serving London's Old Bailey were replaced with Remeha Gas 610 Eco Pro boilers in a parallel installation, the two plant rooms provided a unique showcase of the evolution of boiler technology across half a century.
The physical dimensions of the two boiler types was the first obvious point of comparison, with the modern condensing boilers just a fraction of the weight and size of their predecessors.
An evaluation of boiler performance underlined the major technological progress, with the advanced condensing boilers engineered to deliver near maximum efficiency and minimum low Class 6 NOx emission levels.
While admittedly, the Netherton boilers date back to 1967, a site survey of older UK school, hotel or hospital buildings will also reveal the extent to which this popular equipment has evolved in just the last few decades. And importantly, it's not just boiler design that has evolved but also its application as we work to overcome typical installation hurdles, optimise efficiency and meet tighter environmental requirements.
Take modular boiler arrangements. Historically, one or two larger output boilers would have been specified to meet a high heat demand. As the smaller output boilers of the time were not proportionally more compact, a 2MW system would typically be achieved with two 1.5MW boiler units or even one 2MW boiler for space efficiency.
Oversizing was commonplace, partly due to the limited range of boiler models and partly to combat general system inefficiencies and poor building insulation. Today, the extensive range of reliable, energy-efficient boiler models offered by manufacturers makes it easier to match the building's heat demand for reduced energy consumption and costs.
And designing for easier future servicing and maintenance across the lifetime of the boiler – as well as its ultimate disassembly – will bring the costs down still further. So how to achieve this? To overcome the frequent design hurdles of restricted plant room space and access constraints in older buildings, building service engineers are increasingly turning to modular boiler design.
Modular is a term that's used fairly extensively in our industry, from modular construction and modular buildings to modular services and, of course, modular boilers.
Essentially, a modular boiler arrangement enables the design to be broken down into smaller parts or sections. In this way, it successfully resolves both the problem of awkward access and the need to achieve a high output in a compact footprint.
When it comes to allocating plant space with a modular design, there are two main options. The first is to use a stacking boiler arrangement, which involves positioning units vertically on top of each other. These usually come with a vertical header at the rear to combine the whole assembly and achieve the final output. In a typical scenario, a stack of around six to nine modules will form the load demand.
This key benefit from this style of arrangement is the ability to deliver a larger heat output in a smaller physical footprint. However, given that the design usually requires access on all sides of the plant and pipework arrangement, this generally means that the units needed to be 'islanded' in the plant room.
The alternative is to select a floor standing modular boiler design as the latest ultra-compact and lightweight models are perfectly suited to modular configurations. Take Remeha's Gas 220 Ace floor standing boiler series, for example. With heat outputs up to 300kW and cascade options, a high heat output of up to 2.4MW can be installed in just 5.6m2. The impressively small footprint still enables easy and safe access to all eight boilers, as the connections are all on one level and no lifting or stacking of heat exchangers is required.
Clearly reducing energy consumption from heating is the ultimate goal, but each building will have its own unique requirements.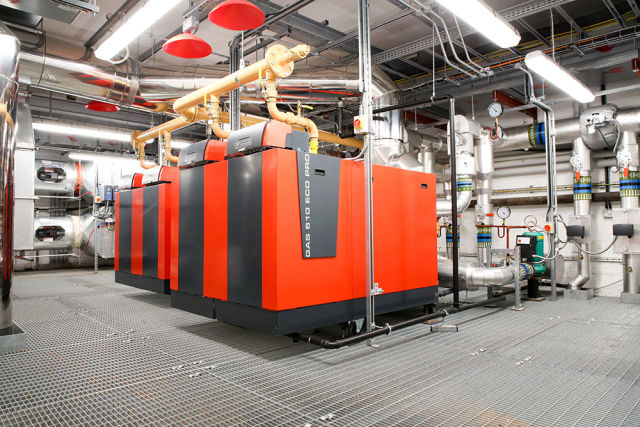 Take museums or art galleries, for example. While reliable heating is desirable in all buildings, in sites like these, achieving constant controlled temperatures is often essential to protect or conserve the treasures they house. Accommodating redundancy into the design may therefore be critical to the project requirements.
If we were to consider a project with a peak output of 300kW we first have to establish client and building operational aspects. However, in a typical scenario of semi-critical heat like a school, we would often look at splitting a medium size load between three modular boilers, with each boiler providing 66% of the load. Should one boiler fail, we still retain more than full capacity. Load sharing between all three modules allows for even run hours and less stress on consumable parts. Gone are the days of duty and duty assist.
Ultimately, how we split the load will depend on the project budget and client requirements in terms of redundancies and modularity.
Whether opting for a vertical stacking or floor standing modular boiler design, good boiler selection is all-important to optimise boiler lifecycle efficiency. Capital costs can be an influencing factor in boiler selection, but a whole life costing approach will provide a more accurate evaluation of the boiler's lifetime costs. For this reason, it's important to evaluate the maintenance and servicing costs along with boiler performance.
Quality and longevity should top the list of criteria. The heat exchanger is the heart of the boiler, so when selecting your modular system, check if it is sectional (made from multiple castings) or monobloc. The benefit of a single casting is that it allows constant thermal expansion across the whole heat exchanger, reducing the need for large joins and improving performance, reliability and lifespan.
The same principle applies to the quality and flexibility of the connecting pipe kit and accessories. It's worth noting that some manufacturers offer bespoke arrangements and additions to meet specific project requirements.
When it comes to servicing, some boilers will offer more straightforward interrogation than others, and, if manufacturer spare parts are readily available, it's simpler to keep the heating operating as intended. Manufacturer support is also key. Some manufacturers will also provide value-added customer service such as an out-of-hours technical assistance helpline for additional peace-of-mind, helping ensure continuous heat provision.
And as experienced manufacturers will be able to provide a clear outline of the access requirements to help you coordinate your plant, early engagement is advised. Increasing the efficiency of the UK's existing buildings remains one of the major challenges facing the building services industry and is central to achieving our more challenging environmental targets.
Heating is a natural starting point for improvement measures. With so many of our existing buildings relying on boilers for their heat, it follows that routine replacement of ageing or inefficient boilers must figure high in energy reduction strategies.
Modular boiler designs offer a practical means of achieving a smooth, quality installation while optimising heating efficiencies. And with experienced manufacturers at hand to help evaluate the various configuration, boiler selection and sizing options, we can achieve our united aim to deliver better, more comfortable and energy-efficient buildings.
Ryan Kirkwood is specification manager for Remeha
Related links:
Related articles: