KNX technology gives complete home control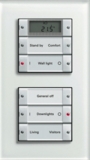 The complete home automation system for a private house in Leicestershire has been completed by Design Innovation, a member of KNX UK. The company was contracted to undertake a complete turnkey solution, including electrical installation.
KNX technology has been used to control lighting, blinds, curtains, heating and hot water. Wall switches with glass surrounds incorporate temperature sensing and adjustment, removing the need for separate thermostats. Integration has been used wherever possible to ensure the KNX system works seamlessly with the audio-visual and security systems.
Security is handled by an alarm and automation system integrated into the KNX and the property's gate and door entry system. A 'gate open' button on the lighting panel in the hall controls the gate and can open it during the day but close it at night.
Setting the alarm turns off all lights after a delay; on re-entering the house or opening the gate, a welcome-home state is triggered.
Heating is set back automatically when in vacation mode, and the owners can monitor the heating and CCTV remotely via the Internet.
Related links:
Related articles: