New lamps for old is the route to energy-efficient lighting

Traditional wisdom has always been that replacing a lighting system more than about five years old will reasonable quickly be repaid by reduced energy costs. Now with energy savings can be achieved just by replacing the lamps — as Mike Barrett explains.
The Government's commitment to reduce carbon emissions is certainly ambitious, and when you consider that half of the UK's emissions come from existing buildings, one starts to get a sense of the challenge ahead.
The installation of energy-efficient lighting can be one of the most practical and most cost-methods of reducing energy consumption. Lighting accounts for around 18% of commercial energy use, yet previously a lack of like-for-like replacements in terms of light quality and the need to replace an entire lighting installation has deterred many from making the switch.
However, technology has moved on considerably since energy-saving light bulbs were first invented. Specifiers can now choose from a range of options that are all designed to make replacement, now and in the future, a lot easier. What specifiers should be mindful of is that there is no 'one-size-fits-all' option and that when it comes to specification the lamps must be fit for purpose.
The halogen lamp has come along way since its early predecessors, and this is no more evident than in GE Lighting's halogen IR (infra-red) range of low-voltage reflector lamps. The range provides up to 43% energy savings over conventional lamps and, with the addition of the patented GE reflector coating technology, very good colour rendering throughout life.
Compact fluorescent lamps (CFLs) are another viable option for specifiers looking for a lamp that can be easily installed into commercial incandescent installations. In general, CFLs use up to 80% less electricity than conventional light bulbs while still producing a similar amount of light. For example, a 20 W CFL has similar light output to a 100 W incandescent bulb.
But CFLs are only the beginning of the lighting revolution, and low–energy LEDs are already proving their usefulness in the commercial environment. This is largely due to technological advancements making them the most efficient lamps on the market and a reduction in purchase cost.
LED lamps have a far greater lifespan than most others light bulbs. For example, using a lamp such as the 4 W GU10 LED a financial saving of £93 can be achieved over the course of its life. If used for four hours a day, these lamps would last over 20 years and save nearly 20 kg per year in CO2 emissions. In addition, there is now a wide range of LED retrofit lamps that offer the aesthetic qualities of conventional lamps as well as energy-efficiency benefits and minimal maintenance costs. Suitable for a range of fixtures, they offer a simple like-for-like replacement for incandescent lighting.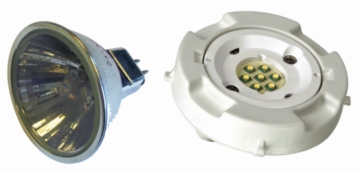 However, the main driving force for specifiers is Part L of the Building Regulations, which demands action to reduce installed power consumption per square metre for lighting in buildings. This means an increased pressure on building designers and contractors to reduce energy consumption, while the majority will all be facing tough cost restraints.
The good news is that as technology has progressed — so saving energy and saving money now and in the future is getting easier. This is because LED modules are now available that can replace existing lamps without the need to replace the whole luminaire. Specifiers can futureproof lighting schemes with the latest LED technology and will not find themselves stuck with a range of lamps in situ five years down the line and unable to upgrade as technology advances due to the high cost of replacement.
For example, the new generation of GE Lighting's LED Infusion modules offer a wide range of light outputs and require very minimal maintenance. Exchanging modules can be done with a simple twist-fit operation this connects the module with the luminaire and provides all necessary thermal, electrical and mechanical connectivity.
There are now more reasons than ever to switch to an energy efficient lighting scheme. Gone are the days when replacing an entire lighting scheme was the only way to introduce an energy-efficient solution into a building — a lengthy refurbishment process with its associated high costs. What is important is that those responsible for reducing energy consumption in commercial buildings realise that today, a whole host of retrofit lighting exists that can offer the same quality of light — but with significantly lower energy costs.
The added advantage is that by utilising LED technology now, specifiers can reduce energy use, future proof a lighting installation and minimise costs in the long-term.
Mike Barrett is commercial director for the UK with GE Lighting.
Related links:
Related articles: