Resistive humidifier has low maintenance costs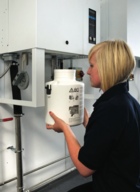 Condair Mk5 resistive steam humidifiers from JS Humidifiers offer close humidity control and maintenance costs that can be up to 65% less than other electrode-boiler humidifiers. These humidifiers manage scale so that it is easy to remove, thereby eliminating the need for expensive disposable boiling cylinders. Outputs range from 5 to 80 kg/h, with full modulation of the output.
Scale forming on the heating elements is detached during normal operation and falls into a collector tank located at the bottom of the unit.
These humidifiers are wall-mounted and easy to install with a wall-mounting bracket. 3-stage operation of the heating elements provides gradual start up to avoid large current peaks.
The control panel shows operational status, faults and service requirements, and can be linked to a building-management system.
Related links:
Related articles: