Serbian factory for Grundfos Pumps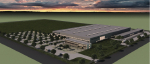 Grundfos Pumps has started work on a new 25 000 m2 factory site in Serbia. It is 45 km from the capital Belgrade and expected to be completed by the end of 2012. The facility will achieve a LEED (Leadership in Energy & Environmental Design) Gold certificate by attaining very high environmental standards.
Grundfos is already producing pumps in Serbia. When the production lines move into the new facility, staff numbers are expected to rise rapidly to 350.
Related links:
Related articles: