Methodist church expects more efficient heating from wet system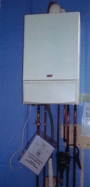 When the blown-air heating system of Pitsmoor Methodist Church in Sheffield failed, chief property steward John Eaton invited Alpha boiler installer Dave Oates to advise on a suitable replacement. The solution was to install two Alpha gas-fired CD35C boilers and one 28C boiler to deliver both space heating and hot water. The boilers are installed at various points around the church to create individually controlled zones.
The original heating system dated from when the church was built in 1972. It heated the whole building and was expensive to run.
Installation took about three weeks. Because the floors are concrete, all pipework to radiators had to be surface mounted.
Dave Oates says, 'We were able to site the boilers in the most convenient locations for access and to be hidden from view. As an additional help, Alpha also gave Pitsmoor free flues and three Fernox TF1 filters with the boilers, helping to bring down the cost further.'
Related links:
Related articles: