Keeping the customer satisfied
BSRIA's latest Key Performance Indicators for M&E maintenance show a number of encouraging improvements — as Tracey Tilbry explains.
The maintenance of a building is essential to supporting the function of the business. In today's environment managers are searching for an edge that can provide them with success, and maintenance outsourcing is one approach that is perceived to lead to greater effectiveness.
Outsourced maintenance service providers can bring best practice to an organisation, but a client will need year-on-year demonstration of improvement. Measurement becomes important, and the adoption of KPIs (Key Performance Indicators) is a powerful mechanism to monitor performance.
BSRIA's customer satisfaction KPIs for mechanical and electrical maintenance provide evidence of contract delivery successes and highlight good practice as well as 'could-do-better' areas within the industry.
This is the ninth year of BSRIA's M &E maintenance KPIs in which BSRIA ask building owner occupiers to assess their current M&E service providers.
The 10 M&E KPIs were:
• response to reactive/breakdown maintenance;
• quality of planned preventative maintenance;
• effectiveness of communication channels;
• relationship with your organisation;
• level of innovation and proactivity;
• compliance with legislative requirements;
• adherence to the budget;
• management of health and safety;
• management of documentation and site operatives;
• level of overall satisfaction.
The results this year were encouraging in some areas and predictable in others. The statutory KPIs, which are normally the top scorers in the survey, have seen little change over the years, and as a mandatory necessity it is a little disappointing that the percentage of good scores in this area have never yet reached the dizzy height of 60%. That said, this could be because of the high expectation of the client in this area.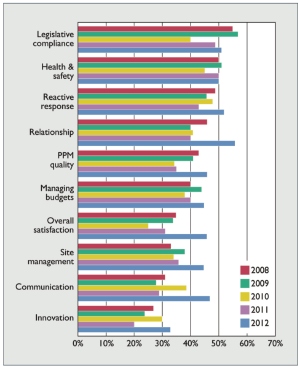 The highest increase in scores this year goes to 'communication', with an 18% increase in good scores. This result is recognition of the efforts made by contractors to engage with their client and has had a knock-on effect for other KPIs. This has been noticeable particularly in 'innovation' being 13% up on the previous year; historically the worst performing KPI this year's improvement could be the result of contractors needing to do more with less.
The improvements overall have had a remarked influence on the clients opinion of their relationship with their contractor, judging by the highest of the KPI scores for 'relationships' of 56% for good scores of eight or more, an increase of 16% on the previous year.
BSRIA asked respondents if they would they be happy to consider a tender from their current service provider if their contract were up for retender. Over 80% said they would — which is reassuring, but which presents a challenge for those trying to win new contracts.
BSRIA also asked if changes in key personnel had affected the quality of service delivered. Most were either not affected or thought the changes had not been detrimental to the quality of service delivery.
The results of the latest survey are encouraging, especially in the current uncertain times. Clients are demanding value for money, with no surprises or risk to their core business. So to build on the encouraging achievement in the latest survey, contractors will need to do even more of what they are already doing — and then some in order to nurture their relationships further.
The full report of the M&E maintenance customer satisfaction KPIs, including the results by sector, are compiled for BSRIA's Operation & Maintenance Benchmarking Network. BSRIA also undertakes independent client-satisfaction surveys to examine the strengths and weaknesses of a service provider not currently reported on. This will enable clients and service providers to ensure quality of service, monitor progress and achieve good client working relationships as well as promoting best practice and ultimately client retention. For more details about this and the Network contact tracey.tilbry@bsria.co.uk. To take part in this year's survey go to the link below.
All responses will be treated in the strictest confidence, and names will not be published.
A scale of 1 to10 was used to score each question; 1 being the lowest score i.e. total dissatisfaction and 10 the highest i.e. total satisfaction and a score of 8 being considered a good score — as detailed below.
Very dissatisfied: 1 and 2
Most dissatisfied: 3 and 4
Neither satisfied or dissatisfied: 5 and 6
Mostly satisfied:7 and 8
Very satisfied: 9 and 10
There were 103 usable responses from 15 different sectors. There was a 62% private to 38% public sector split, a similar response to previous years. The most responses were from the property-management, financial, charity and education sectors.
Tracey Tilbry is networks and events manager with BSRIA.
Related links:
Related articles: