When LED lamps meet controls

Like any other lighting installation, those using LED lamps will use much less energy if they are well controlled, but there are important issues to consider — as Mike Simpson of Philips explains.
If you have ever tried to work in a dim and dreary office you will appreciate just how important good lighting is. Providing adequate and appropriate lighting is important to ensure that employees can perform visual tasks efficiently and accurately, reducing eye strain and fatigue. The good news is that there is now a greater interest in the quality of light in office space, with more and more companies recognising that productivity can be improved if a greater focus is given to creating lighter, brighter and more spacious-looking offices. Lighting is also one of the simplest, quickest and most affordable ways to transform the look and feel of a space which can be a very attractive quality to both landlords and potential tenants.
By 2020, it is estimated that 80% of offices will be using LED light sources. The creative potential of LED lighting is already transforming office environments everywhere. With dramatic reductions in energy consumption, it's making a difference to the bottom line too.
Using significantly less energy than many traditional lighting systems, LED cuts energy bills by up to 60%. It also has a longer life expectancy, reducing the need for replacement and maintenance.
Combined with a lower carbon footprint, LEDs help achieve 'sustainability' commitments which in turn can contribute towards achieving Green Building accreditation. This can help increase property asset value by up to 16%, plus green buildings also attract higher occupancy rates and rental.
The key to really unlocking the potential of lighting is to ensure it is considered as early on in the design process as possible, to reflect the usage of the space and desired end feel. It is also important to ensure that lighting controls and LED technology are combined effectively to create an intelligent lighting system, which can lead to additional savings, through the use of daylight harvesting and presence detection, and increased flexibility. The relationship between lighting controls and LED is not, however, without special considerations.
Since the initial adoption of retrofit LED lamps about four or five years ago and, more recently, LED-based luminaires, there have been many discussions around the compatibility of LED systems with lighting controls. To understand the compatibility question more fully, it's helpful to consider how controls evolved.
Most dimmers were developed without consideration for LEDs as the technology simply didn't exist. In fact in domestic environments dimmers have actually skipped a generation of energy-saving lamps, as it wasn't possible to dim most compact fluorescent lamps.
The first area of discussion surrounds the dimming of retrofit LED lamps.
Retrofit LED lamps fall into two distinct groups: dimmable and non-dimmable.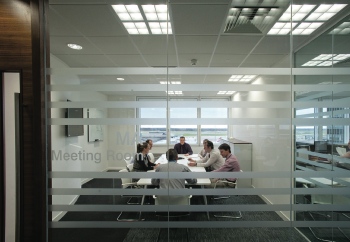 Switching non-dimmable lamps is fine, but issues may arise when controlling dimmable lamps. Most dimmable lamps are designed to operate on common phase cut dimmers, which work by 'cutting off' part of the mains voltage to vary the RMS voltage fed to the lamp.
In reality, however, most domestic dimmers are leading-edge dimmers, originally designed to operate traditional incandescent lamps, rather than LEDs. In addition, the quality of the components in domestic dimmers can vary quite dramatically; rarely do users think about purchasing a new dimmer when upgrading to LED, so LED lamps are often connected to existing dimmers, leading to poor performance. In fact it's not unusual to see halogen lamps flicker on some of the poorer-quality dimmers.
So where does that leave us with LEDs?
Unfortunately, the answer is not necessarily straightforward. It is generally understood that LED lamp installations should not exceed 10% of the max dimmer load, meaning it is important to balance the number and wattage of lamps with the dimmer's capacity. This works for most applications, but if the load is too small, less than 12 W for example, a leading-edge dimmer, may not even realise that it is connected to a lamp. A good solution is to fit a device known as a resistive load which will add about 10 W to the energy consumption, but still support an efficient installation with all the other benefits associated with LEDs. Alternatively, trailing-edge dimmers are much better suited to retrofit LED lamp loads.
The second area that receives a lot of attention is professional networked control systems. With networked control systems, it is much easier to specify trailing-edge dimmers which are less prone to the compatibility issues than leading edge dimmers. But, be warned, most trailing-edge dimmers have evolved with large halogen lamp loads in mind, so these, too, may have difficulty controlling very small LED loads.
The ideal solution is to work closely with your controls provider, to ensure they understand LED loads and are in a position to advise you on suitable dimmers. There is no excuse for poor system performance. While there have been some compatibility issues between lighting controls and LEDs in the past, the technology is now very well established. Reputable controls manufacturers will have tested their products with a selection of LED lamps and be able to ensure a smooth dimming curve and deep dimming levels to one or multiple lamps.
As a result, it is now possible to enjoy the real benefits of well-designed installations that combine LED systems and lighting controls. Whether it's an office, retail or industrial application, lighting control systems are the key to unlocking the endless possibilities LEDs can deliver.
Mike Simpson is technical and design director for the UK with Philips.
Related links:
Related articles: